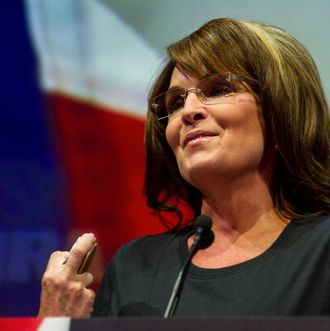 Photo: KAREN BLEIER/AFP Images/Getty
Sarah Palin, who quit her job as governor of Alaska to pursue a career in reality television and incoherent punditry, knows a few things about ignoring her home turf in the pursuit of national celebrity. So when, while endorsing New Jersey Republican Senate candidate Steve Lonegan, she criticized Cory Booker's frequent absences from Newark, it was from a position of some authority. "During one mayor's tenure his town's unemployment nearly doubled, taxes skyrocketed, and violent crime increased; but in fairness, Newark Mayor Cory Booker may not have noticed these facts between his constant tweeting and trips to Hollywood," Palin wrote in the statement she released in lieu of an actual trip to New Jersey. But she would have voters do as she says, and not as she does.
"Let's come together, turn out, work hard, and elect conservative Steve Lonegan to the U.S. Senate on October 16!" Palin wrote. According to the New Jersey Star-Ledger, Palin has no plans to campaign for Lonegan on the ground, but he told the paper, "she's doing a big push for me through Facebook and Twitter." You know, that thing she's so critical of Booker using?
As for Lonegan, he said "her endorsement is further proof that the Republican Party will always come together to stand for principled conservatives." As long as she doesn't have to actually stand next to them.