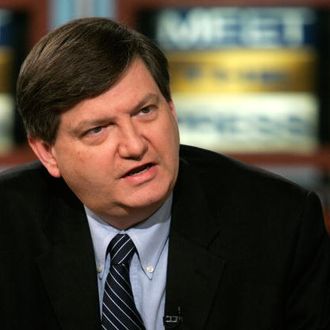 Photo: Alex Wong/Getty Images for Meet the Press
James Risen, the author and New York Times reporter whose testimony in a leak investigation federal prosecutors are trying to compel, will likely take his case to the Supreme Court now that an appeals court has declined to hear it. "My client remains as resolved as ever to continue fighting," Risen's lawyer, Joel Kurtzberg, told the Times in response to the refusal by the Fourth Circuit Court of Appeals to hear Risen's case. A panel of that court already ruled Risen must testify in the investigation into former CIA officer Jeffrey Sterling, whom the Department of Justice believes revealed information to Risen that he published in his book State of War.
If prosecutors don't withdraw the subpoena— which Politico's Josh Gerstein points out they might do, thanks to Attorney General Eric Holder's new guidelines protecting journalists — then Risen's next step will be to bring his case to the Supreme Court and hope it decides to take up the issue of protecting journalists' sources.