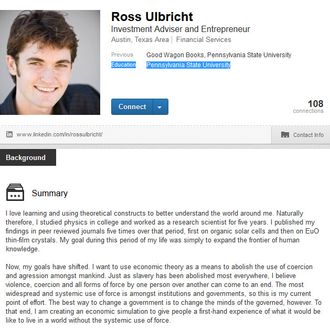 The dark Internet's favorite massive drug marketplace, Silk Road, was shut down by the FBI last night and its alleged mastermind arrested on an array of colorful charges after a nearly two-year undercover operation.
Twenty-nine-year-old Ross Ulbricht, a.k.a. "Dread Pirate Roberts," was picked up in San Francisco and accused of running the underground e-warehouse while allegedly laundering money, trafficking narcotics, and even hiring a hit man to kill one of the site's users. Fittingly for a computer nerd, not a Heisenberg, he left a rich personal trail online.
According to the federal complaint, filed in the Southern District of New York, "Silk Road has emerged as the most sophisticated and extensive criminal marketplace on the Internet today," enabling "several thousand drug dealers" to move "hundreds of kilograms of illegal drugs." The site's sales totaled about $1.2 billion in the form of 9.5 million Bitcoins (naturally). About $3.6 million in the Internet currency has been seized.
Ulbricht, though, wasn't exactly great at covering his tracks, attaching his name, photo, and personal e-mail address to Silk Road business, eventually resulting in his arrest.
In addition to the drug stuff, Ulbricht allegedly tried to take out a hit on someone threatening to reveal customer information: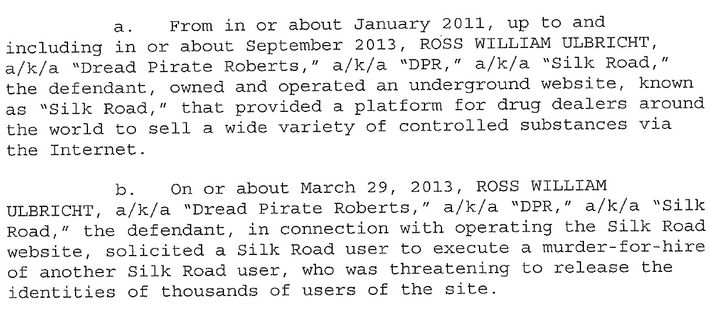 He allegedly offered about $150,000 for the job, but only after some negotiations, when Ulbricht claimed "not long ago, I had a clean hit done for $80k":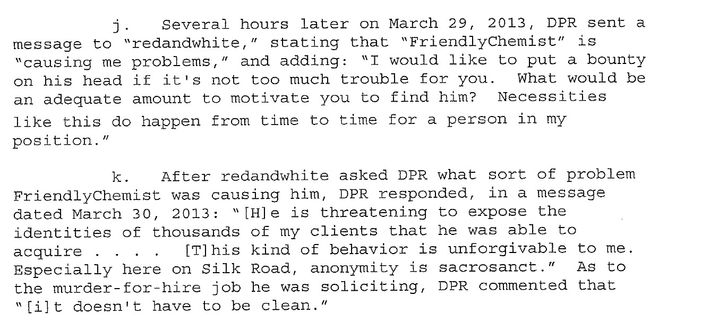 Although it was supposedly "taken care of," there's no evidence any actual murder ever took place, according to the complaint.
The charges also cite Ulbricht's LinkedIn page (see top photo), where he lists himself as an "Investment Adviser and Entrepreneur." His summary, in particular, sticks out:
I want to use economic theory as a means to abolish the use of coercion and agression amongst mankind. Just as slavery has been abolished most everywhere, I believe violence, coercion and all forms of force by one person over another can come to an end. The most widespread and systemic use of force is amongst institutions and governments, so this is my current point of effort. The best way to change a government is to change the minds of the governed, however. To that end, I am creating an economic simulation to give people a first-hand experience of what it would be like to live in a world without the systemic use of force.
He also notes his work with "thin-film crystals" and seems to have released a book, Europium Oxide Thin-Films: Exploration of Epitaxy and Strain, on the strange subject in 2009: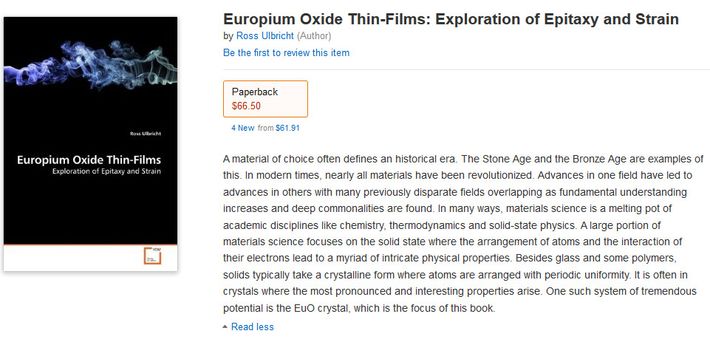 Last year on his Google+ account, Ulbricht, who's now charged with facilitating the sale of drugs through the mail, asked, "Anybody know someone that works for UPS, FedEX, or DHL?"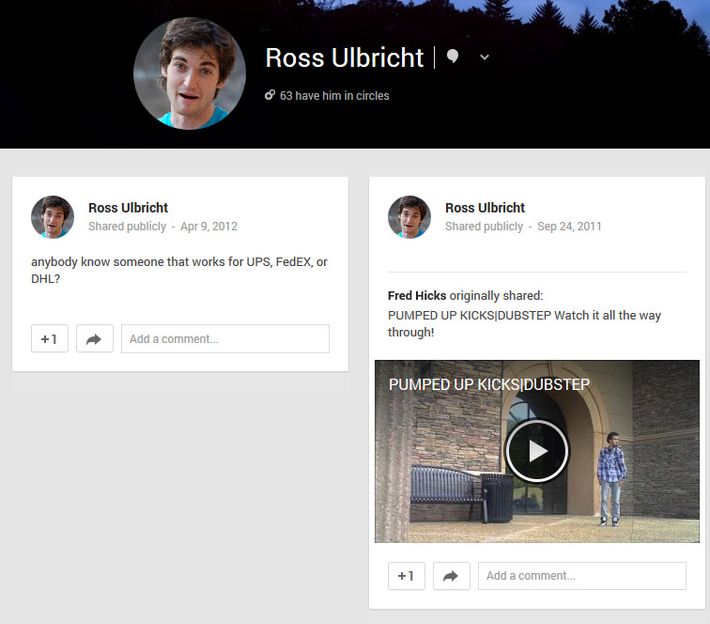 On YouTube, Ulbricht ("ohyeaross") liked videos by Ron Paul, along with clips called "The Market for Security" and "How to Get Away With Stealing." (Of Paul, Ulbricht once told his Penn State Univeristy paper, "There's a lot to learn from him and his message of what it means to be a U.S. citizen and what it means to be a free individual.") Most recently, he followed the Vice channel.
Here he is doing an interview with his "best friend" about moving to San Francisco, "the Mecca of start-ups":
Reddit's Silk Road section is now freaking out.
Update: "I don't know how they messed it up and I don't know how they got Ross wrapped into this, but I'm sure it's not him," René Pinnell, the other man in the video above, told The Verge today.
"Ubricht's parents said they had not known what their son was doing in San Francisco," Reuters reports. "He is a really stellar, good person and very idealistic," said his mother, Lyn Lacava. "I know he never meant to hurt anyone."