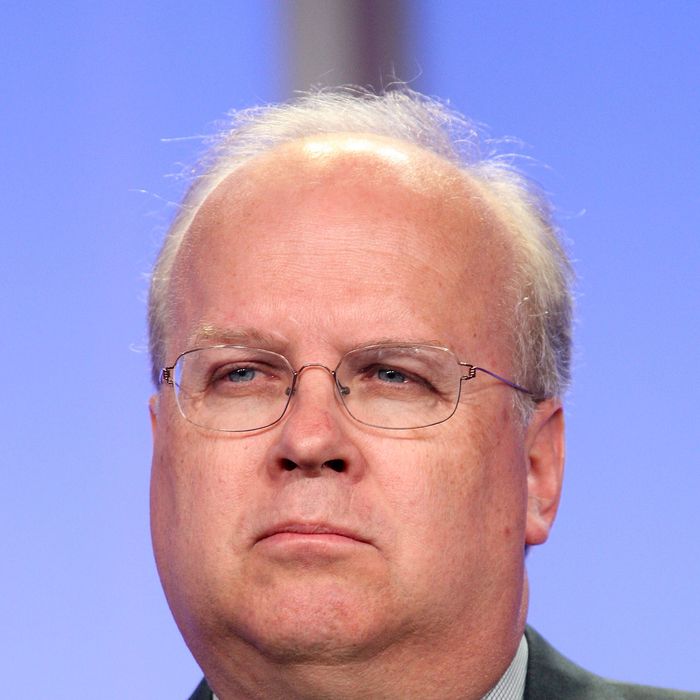 You win this round, Obama, but next time we won't fall for your "trick us into shutting down the government by asking us not to" plan.
Photo: Frederick M. Brown/2008 Getty Images
Karl Rove may have presided over one of the more disastrous presidencies in American history, and then directed a shadow campaign for Mitt Romney that, at minimum, failed to deliver its objectives, but he turns out to be a surprisingly entertaining newspaper columnist. Granted, the entertainment is unintentional, but you have to take your Rove successes where you can find them.
Today's effort is mostly devoted to repeating the familiar and correct point that Republicans blundered by shutting down the government. That argument, which consumes the bulk of the verbiage, is not the interesting part. The interesting piece is Rove's preface that of course President Obama deserves most of the fault for this debacle. That preface serves the purpose of signaling partisan affinity, so that Rove can deliver his admonishment against the backdrop of the friendly assurance that his party's blame is but secondary to Obama's:
There's plenty of blame to go around for the chaos in Washington, but at the top of the list is the absence of presidential leadership. When Congress is close to agreement but still divided, the country rightly counts on its chief executive to bridge the gaps, make the compromises, and smooth the way to passage.

Instead, President Obama deliberately withdrew from negotiations over the debt ceiling and government shutdown. According to a Bloomberg report on Wednesday, the White House was concerned his personal involvement would be "a mistake that damaged the president's ability to advance his agenda."
Okay. Rove begins by asserting that Obama deserves the most blame for the shutdown. The reason is that he believes the president must be the one to "make the compromises," but he refused to do so. It's too bad Rove kept his view of the necessity of unilateral presidential compromises hidden back when George W. Bush was always vowing he would not "negotiate with myself."
Rove compounds the problem by failing to spell out, or even hint at, what compromises he thinks Obama should have made. He offers that Republicans instead should have "pull[ed] at its threads with measures that will gain Democratic votes — or at a minimum highlight Democratic opposition." Rove is implying, without saying, that Obama should have offered to pull apart his health-care reform as a condition for keeping the government open. In any case, as he concedes in this very column, the actual House Republicans' demand was to fully defund his health-care plan, a demand Rove concedes was unreasonable.
Obama instead took the view that the parties agreed that the government shutdown and defaulting on the debt were bad, and proposed that they do the things they agree on, namely, reopening the government and not defaulting. And here we come to a second problem in Rove's indictment: Obama's negotiating method actually, you know, worked. Congress just last night reopened the government and lifted the debt ceiling in a massive bipartisan vote.
Rove then turns to lamenting Republican missteps, before returning at the end to restate this point: "Barack Obama set the trap. Some congressional Republicans walked into it."
I've reread Rove's column some half dozen times, and I can't figure out what he thinks Obama's trap was. Refusing to make concessions to reopen the government after Republicans shut it down and thereby goading them to shut it down in the first place? (This one has a serious sequencing problem.) Passing health-care reform in 2010? Having a federal government at all that Republicans were tempted to shut down?