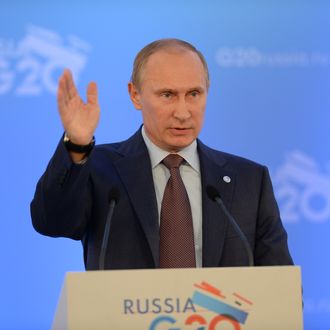 Don't forget to charge your phones tonight.
As the United States and its allies fight over secret surveillance operations, there are new allegations that Russia tried to spy on other countries when it hosted the G20 in St. Petersburg in September – and they're just as brazen as you'd expect from a country where the president asked to try on a guy's Super Bowl ring and walked out of the room with it. According to the L.A. Times, two Italian newspapers reported on Tuesday that gift bags handed out to all delegates included G20-branded phone charging cables and USB thumb drives that could spy on devices they were plugged in to. "They were Trojan horses designed to obtain information from computers and cellphones," La Stampa explained.
The papers reported that the bonus spying feature was discovered when officials from Belgium ordered that the devices be analyzed. Kremlin spokesman Dmitri Peskov denied the accusations, saying, "It is definitely nothing other than an attempt to switch attention from the problems that really exist, which dominate the agenda between the European capitals and Washington, to problems that are ephemeral and nonexistent." But to make sure there are no hard feelings, Russia would be happy to send all of the delegates new iPhones.