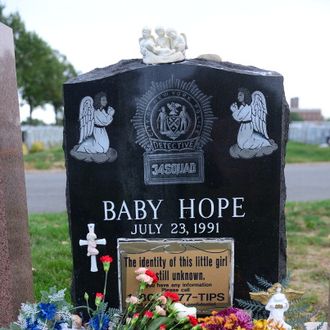 The twenty-year mystery of "Baby Hope" — a four-year-old who was found dead inside a cooler in a wooded area near the Dyckman Street exit of the Henry Hudson Parkway back in 1991 — was finally solved Saturday with the arrest of Conrado Juarez, a 52-year-old man from Richmond Plaza in the Bronx, who had been the young girl's cousin. Baby Hope's real name was Anjelica Castillo, born in Elmhurst Hospital Center in 1987. Her mother later sent her to live with her father in a crowded apartment in Astoria, where she was mostly cared for by her aunt (Juarez's mother). The New York Post reports that Juarez, who has been working as a dishwasher at Pesce Pasta on Bleecker, gave police a detailed confession during which he said he sexually assaulted and smothered Castillo after coming home drunk one night.
Jerry Giorgio, a former detective on the case who saw the confession, was elated to finally see some justice. "You know the expression I'm on cloud 9? Well, that's where I am right now," he said. He then described the horrifying circumstances of her death: "It was nighttime, and she was in the hallway for some reason — maybe she was going to the bathroom. He said he just took her by the hand and she went with him. She may at one point have started to yell or scream, looking for help. That's when he put the pillow over her face." Worse still, a source told the Post that Juarez suggested it was Balvina Juarez-Ramirez, his now-deceased sister, who came up with the idea take the girl's body by livery cab to Washington Heights.
Police were able to crack the case thanks to a tip this summer from someone who overheard a woman discussing her young sister, who had gone missing years ago. That person called police and, according to Police Commissioner Ray Kelly, the "tip produced a lot of investigative work, and with great detective work we were able to track people down and interview them." Previously, investigators were unable to figure out the girl's identity because her mother, who has nine other children, never reported her missing. Despite the lack of leads, the NYPD never gave up hope and continued tacking up fliers and sending a van equipped with loudspeakers through Washington Heights in an effort to remind people of the case.
"Every year on the anniversary of Anjelica's death, police officers would fan out across New York City, to post fliers, visit old addresses and talk to neighbors and relatives," the New York Times reports. Deputy Chief Joseph J. Reznick, the detective commander of the 34th Precinct in Washington Heights, where the girl was found, said, "Over the years the optimism was always there, except the frustration would grow. But, you know what, reflecting back on what we named this little girl, Baby Hope, I think that's the most accurate name we could have come up with. And it worked."
Manhattan Assistant District Attorney Melissa Mourges had also been involved with the case from the start, when she served as original prosecutor.  She is now chief of the cold case unit and was the person who told a Manhattan judge of Juarez's felony murder charge late Saturday. Juarez pled guilty at his arraignment. He was denied bail despite complaints from his lawyer that he'd been questioned for nearly fourteen hours without representation.
This post has been updated throughout.