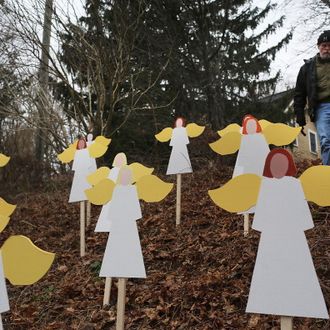 Police guard the entrance to the Sandy Hook School on December 15, 2012 in Newtown, Connecticut. The residents of an idyllic Connecticut town were reeling in horror from the massacre of 20 small children and six adults in one of the worst school shootings in US history. The heavily armed gunman shot dead 18 children inside Sandy Hook Elementary School, said Connecticut State Police spokesman Lieutenant Paul Vance. Two more died of their wounds in hospital.
Photo: Spencer Platt/Getty Images
On Saturday, the residents of Newtown, Conn. voted overwhelmingly to accept $49.25 million in state money to demolish Sandy Hook Elementary and construct a new school on the site. According to the New Times, the vote was 4,504 yes to 558 no, which is the highest turnout in the town since the 2008 presidential election. Students have been attending another school since the Dec. 14 shooting that killed twenty first graders and six staff members. The redesigned school is expected to open in 2016.