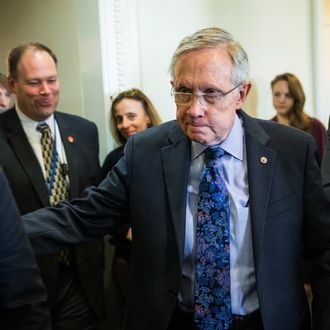 Reid.
Photo: Andrew Burton/Getty Images
The government shutdown is well into its second weekend, and attention has shifted from the House Republicans who started this mess to the Senate leaders who seem to be the country's best hope of ending it. This morning, House Speaker John Boehner called his members into a meeting to say that his talks with President Obama and the White House broke down Friday night. With that announcement, Senate Majority Leader Harry Reid took to the floor to let everyone know that his chamber intended to take charge of the situation. "I was happy to see the Republicans engaged in talks with the president, the House Republicans. That's over with. It's done. They're not talking anymore," he said. "I say to my friends on the Republican side of this Senate, time is running out."
A group of "rank-and-file" Senate Republicans led by Maine's Susan Collins put together a proposal which "called for raising the federal debt limit until Jan. 31 and funding federal agencies through the end of March. It also called for minor adjustments to President Obama's signature health-care initiative as a 'fig leaf' to help build Republican support," according to the Washington Post. Senate Minority Leader Mitch McConnell brought that plan to Reid, who rejected it based on "the brevity of the debt-limit increase and the inclusion of health-care provisions," as well as its "proposal to keep the sequester cuts in place for fiscal 2014, leaving agency spending on track to be roughly $70 billion lower than Democrats have proposed."
Observers now say it's up to Reid and McConnell to come up with a solution on their own. The pair's Saturday sit-down was their first face-to-face meeting since July, and Reid expressed the "hope that our talking is some solace to the American people and the world." During a press conference, he said, "Senator McConnell and I have been in this body a long time, we've done things for a long time together. I know him, he knows me. We don't agree on everything, that's as you know probably an understatement." However, when asked if he was "confident" that he could reach a deal with McConnell, Reid responded, "No. I'm just doing my best, I'm not confident in anything in the way Republicans have acted."
McConnell, for his part, described their conversation — which also included Democrat Chuck Schumer and Republican Lamar Alexander — as "a good meeting," though these negotiations will probably be pretty unpleasant for him, since Reid is operating with a clear advantage. According to Politico, this is what might be on the table:
McConnell, sources said, is eager to lock in lower-funding numbers at next year's $967-billion level after the automatic sequestration cuts take effect. That number is too low for Democrats, but sources familiar with the talks said they were willing to agree to a stop-gap spending bill until mid-January at the $986 billion level before the new round of sequestration cuts take effect. It's unclear whether McConnell would go for that.

Moreover, Democrats want a long-term increase in the $16.7 trillion national debt ceiling — potentially through next year — something Republicans blocked in a 53-45 vote in the Senate on Saturday afternoon. They want something far longer than what Collins proposed, which was through the end of January.
But when it comes to the issue over which House Republicans started the shutdown — the demand for changes to Obamacare — it seems likely that the GOP will continue to get little to nothing. While a previously proposed two-year delay to the law's 2.3 percent medical device tax might be possible because some Democrats also dislike it, Reid said this afternoon that the Affordable Care Act "is no longer the issue for the GOP in the shutdown fight. The issue, he said, was 'to do anything they can do divert attention from the fools they've made of themselves on Obamacare.'" (Of course, any deal reached in the Senate would still need to pass the House, where some people see things differently.) The Senate plans to meet for a rare Sunday session, so watch this space for more fun tomorrow.