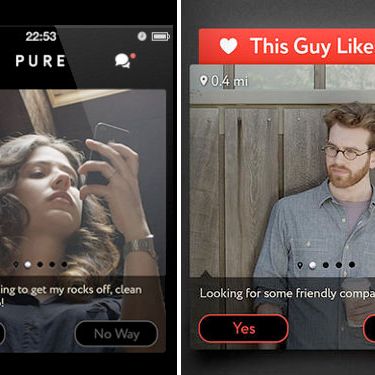 Pure before (left) and after (right) its app-store redesign.
A month or so ago, I wrote about the rise of minimalist sex apps — mobile apps that promised to hook people up for casual, no-strings-attached flings — and featured a new app called Pure, started by two "pomosexual" guys who wanted to make their search for sex easier. They drew up an app, got some seed funding, and launched a beta test to great fanfare.
The problem with Pure's plan was that in this day and age, you can't just launch an app. It has to be approved by the Apple and Google Play app stores, which generally frown on adult content. Without these approvals, apps are DOA. And so, now that Pure has officially opened itself to the public, it has been forced to rebrand as an "instant companion finder," and take all the talk of instant sex to the subtext.
I e-mailed Roman Sidorenko, Pure's co-founder, to ask about the change. You could almost hear the sighs in his reply:
Censors are funny, it's true. But we realized that women are much more into meetings "right now" and have sex later if there is no pressure about having sex before the meeting. And they don't like the idea of committing to sex before the meeting.

Staying within our concept "Help people to find company right here, right now within a specific context" we decided to change our marketing to "The right way to get a date. On-demand." And I don't think this is a pivot or change of focus.
Turning Pure into yet another dating app might have been a financially necessary step for Sidorenko and his investors, but it's no doubt a bummer for them, and for users who wanted a sex-on-demand tool. Thanks to the gatekeepers of the mobile economy, the app world just got a little less raunchy.