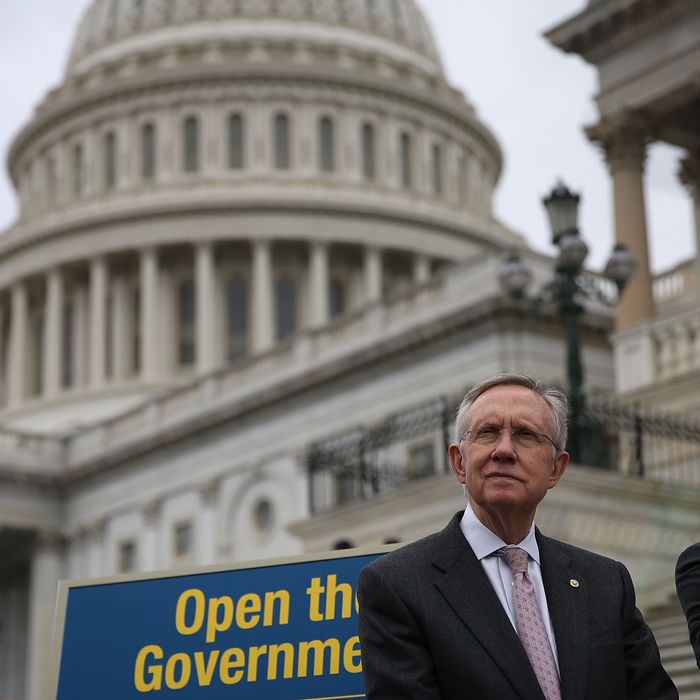 Photo: Mark Wilson/2013 Getty Images
On Wednesday evening, Congress finally approved a deal to end the sixteen-day government shutdown and avoid a default. The proposal worked out earlier in the day by Harry Reid and Mitch McConnell, which funds the government through January 15 and raises the debt limit through February 7, passed the Senate 81–18. Then at 10:20 p.m., with less than two hours to go before the day the Treasury said it could run out of money to pay U.S. debts, the House approved the measure by a vote of 285 to 144. President Obama signed the bill into law after midnight, and the U.S. narrowly averted another financial disaster. The White House budget office announced "employees should expect to return to work in the morning," – and yes, that means the National Zoo's panda cam could be back on as soon as mid-day Thursday.
As expected, House Republicans violated the misleadingly named Hastert Rule to pass the bill. Eighty-seven House Republicans supported the measure, but 144 voted against it, including Paul Ryan. "Today's legislation won't help us reduce our fast-growing debt," Ryan said after the vote. "In my judgment, this isn't a breakthrough. We're just kicking the can down the road." Ted Cruz, Rand Paul, and Marco Rubio were among the Senate Republicans who opposed the bill.
In an brief press conference shortly after the Senate vote, President Obama thanked congressional leaders for finally working out a deal, and urged them to get to work on new budget negotiations, immigration reform, and a farm bill. "We could get all these things done even this year, if everybody comes together in a spirit of, how are we going to move this country forward and put the last three weeks behind us?" Obama said.
As he exited the room, a reporter shouted, "Mr. President, is this going to happen all over again in a few months?" Obama quickly turned and said, "no," with a smile.
This post has been updated throughout.