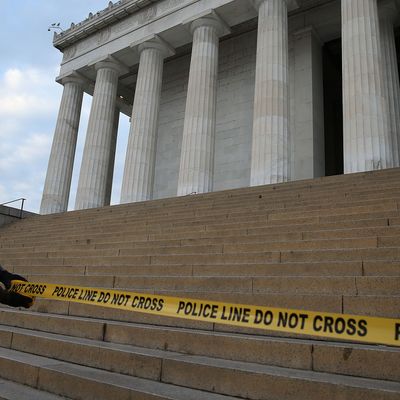 It's working!
Photo: Mark Wilson/2013 Getty Images
The polling on the shutdown to date has been moderately bad for Republicans, but it's also ambiguous. Their support was down, but the public mainly seemed to be mad at everybody. It was possible for the whole episode to look like a wash:
Today's Gallup poll delivers some pretty clarifying news. Instead of asking the usual question of "Who do you blame for the shutdown?" this poll asks how you feel about the two parties. The answer: Everybody hates the Republicans a lot. Even more than they hated them at the end of the Bush era: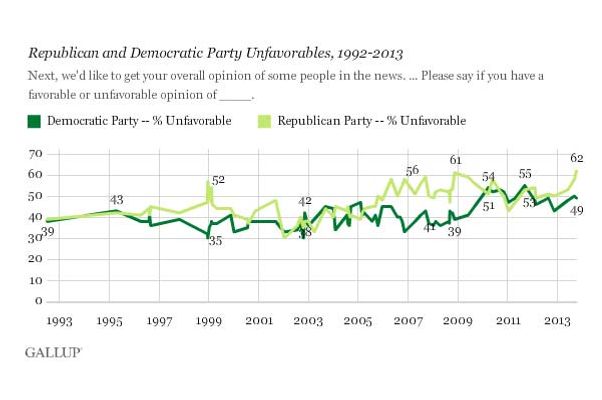 Now, President Obama is suffering in the polls, too. But Obama is not running for office again, ever. In 2014 and 2016 people will be deciding between candidates who are Democrats or Republicans, and none of them will be named Obama. While tarnishing Obama is not unhelpful for Republicans in this context, it's incredibly unhelpful for swing voters to conclude the Republican Party is crazy and irresponsible. That seems like a situation you want to get out of if you're a Republican.
On the other hand, from the internal perspective of the House Republicans who have caused this, the situation looks like a triumph. Their base is happy, they're raising money, they're completely united. Assessing the job House Speaker John Boehner has done during the shutdown, Representative John Fleming gushes, "I think this has been his best two weeks ever as speaker of the House."
Heckuva job!