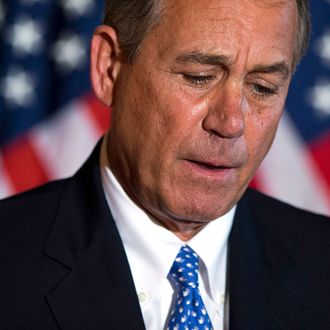 Photo: AP Photo/ Evan Vucci
While Democrats and Republicans can't even agree on whether their conversations can be classified as "negotiations," there was some sort of breakthrough on Thursday afternoon when President Obama met with twenty House Republicans to discuss their proposal to raise the debt ceiling for six weeks and enter into talks on a budget deal. Contrary to initial reports that Obama had rejected the offer, Paul Ryan said he "didn't say yes, he didn't say no." As for the shutdown, sources say Obama repeatedly asked "what's it going to take to" to reopen the government. This will probably help get us there: A Wall Street Journal/NBC News poll released Thursday evening suggests the shutdown has been disastrous for the GOP. Only 24 percent of those polled had a favorable view of the Republican Party, with 53 percent holding an unfavorable view. Those are the lowest marks the GOP has received in the history of the poll, which dates back to 1989.
The survey of 800 Americans conducted between Monday and Wednesday found the public's opinion of President Obama and the Democratic Party relatively unchanged from last month. The president's approval rating increased two points to 47 percent, and the Democrats' favorability rating decreased three points to 39 percent (with a 3.4 percent margin of error).
When asked about the shutdown specifically, 70 percent said Republicans are putting their political agenda ahead of the good of the country, while 51 percent said the same of Obama. Fifty-three percent blamed the GOP for the shutdown, compared with 31 percent who blamed the president.
What's more, it appears the plan to take a stand against Obamacare has backfired. Half of those polled opposed linking government funding to eliminating the Affordable Care Act, up from 44 percent last month. The Affordable Care Act itself actually became more popular, with 38 percent saying it's a good idea and 43 percent saying it's a bad idea, up from 31 percent good idea and 44 percent bad idea.
Of course, this is just one poll, and the shutdown has had many tragic consequences, from cancer patients having their treatment put on hold to fans of the National Zoo's panda cam being forced to watch YouTube videos of different pandas. But if one side is "winning," it doesn't appear to be the GOP.