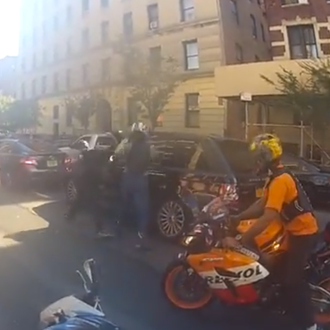 The viral video that showed the events leading up to an assault on an SUV driver one week ago stopped just before the attack itself, which left 33-year-old Alexian Lien with black eyes and cuts requiring stitches. But on Saturday night, prosecutors for the first time relayed Lien's description of the attack, as they arraigned two motorcyclists who allegedly participated. The 33-year-old tech executive, whose wife and 2-year-old daughter were with him in the car, says five or six bikers dragged him from the car and stomped on him as he tried to crawl away after one, identified as 38-year-old Reggie Chance, smashed the window with his helmet.
Another biker, 35-year-old Robert Sims, had his bail set at $100,000. "The defendant is clearly seen stomping on [Lien's] head," assistant district attorney Joshua Steinglass said of Sims. Prosecutors charged Sims with gang assault and felony assault, as well as possession of a weapon, which they did not identify. They charged Chance with first-degree gang assault, assault, and criminal mischief, the New York Post reports.
Sims's lawyer, Luther Williams, scoffed at the weapon charge. "What weapon? Unless they are suggesting the helmets are weapons," he said. Williams said his client was innocent, and that police and prosecutors were focusing on him unfairly, to deflect scrutiny from the actions of off-duty NYPD officers who participated in the ride and did not stop the beating. "They need a fall guy, they need someone to take the weight off them [the off-duty NYPD bikers] and it looks like we have been chosen," he said, according to DNAinfo.
A friend of Sims told the New York Daily News, "he was in the wrong place at the wrong time. How do they know he did anything?" But prosecutors said Sims was clearly identifiable in video and photographs by his black leather jacket, gray backpack, and a helmet with the number 78 on it.