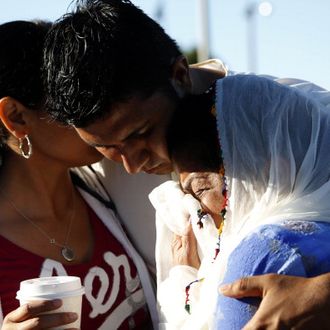 Photo: Darren Hauck/Getty Images
After a white supremacist shot up a Sikh temple in Wisconsin last year, the son of the temple's murdered leader became one of the loudest critics of President Barack Obama and then-candidate Mitt Romney's failure to visit. Amar Kaleka, 35, also helped spread word of his father's heroism, and became something of an advocate for the victims in the case. Now he intends to enter politics officially, challenging U.S. Rep. Paul Ryan, Romney's former running mate, for his seat in the House of Representatives. Kaleka means to file paperwork Wednesday to form an exploratory committee for a run as a Democrat, and to formally announce his 2014 candidacy next month, the Associated Press reports.
This could be the year to take Ryan on. Though he has handily won each race since 2000, the AP notes he captured his smallest percentage of the vote since then last year, with 55 percent. But Ryan is still a fund-raising behemoth, raising $1.7 million so far this year. Kaleka, a documentary filmmaker, "hopes to counter in part by tapping into the wealthy Indian and Arabic communities that he said encouraged him to run in the first place." And he thinks the Democratic Party will kick in another $1 million or $2 million.
Kaleka intends to run on a platform of gun control and government openness. At least, those are the issues he stressed in his interview with the AP. He's tackled the question of openness before, in his movie Sirius, about U.S. contact with aliens. It's going to be interesting to see whether that effort becomes a campaign issue.