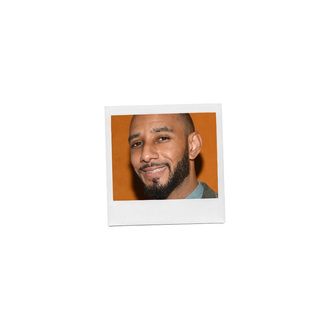 Photo: Mike Coppola/Getty Images
Name: Kasseem 'Swizz Beatz' Dean
Age: 35
Neighborhood: Soho
Occupation: Recording artist, producer, and composer (check out his latest single, "Hands Up," featuring Rick Ross, Nicki Minaj, 2 Chainz, and Lil Wayne here). On Monday, October 7, his series Dream School premieres on the Sundance Channel, and that evening you can catch him hosting and D.J.-ing a charity event for the nonprofit Children's Rights.
Who's your favorite New Yorker, living or dead, real or fictional?
Fab 5 Freddy. I feel that we have parallel lines as far as how we interact with music and art culture. Mine now in 2013, his being way back when he was Basquiat's best friend.
What's the best meal you've eaten in New York?
Steamed Seafood. There's one on 125th Street. It's 24 hours, and the cool thing is that you get to pick your own fish, you get to pick your own veggies and whatever, and it's steamed and it just hits the spot every time. Steamed shrimp and broccoli with seasoned salt is my favorite.
In one sentence, what do you actually do all day in your job?
I work hard!
What was your first job in New York?
Packing bags in C-Town, when I was about 6 years old (I started hustling young). While my grandma was shopping, she'd tell me to "go do something useful," so I would help pack bags. The owner thought it was unique that I was so young and I was into helping people, because in my neighborhood in the Bronx, I don't think anybody was into helping people. And he said, "You know what, if you want to come after school with your grandma and do it for two hours, you can keep the tips." And so I had the bottom of a three-liter soda bottle as my tip cup and I ended up making about a hundred dollars a day. It became the new hustle. Even grown people were trying to do it.
What's the last thing you saw on Broadway?
My wife's play. Before that was Fela.
Do you give money to panhandlers?
Sometimes yes, sometimes no. It depends on if it's believable or not. I'm pretty good at judging character.
What's your drink?
Organic apple juice and coconut water (not together). And all types of red wine.
How often do you prepare your own meals?
Very rarely. I'm not a good cook. I want to do it to surprise my wife one time, you know, like take a secret cooking class and make the chef take off for a week and say, "This week, all the cooking is prepared by me." But I think I that I love seasoning so much that I might overdo it.
What's your favorite medication?
Music, art, and fashion.
What's hanging above your sofa?
Nothing. We're in the middle of renovating the house. I've been collecting art forever, though, so if I had to choose, I would put a lot of different black and whites just to keep the room timeless. I would put up a Gordon Parks, some Ansel Adams, a black and white of Sinatra, a great Cleopatra picture, a Marilyn Monroe photo. Some people do too much, you have like 50 pieces of furniture in your living room. It's too much! Let the lines breathe, let the room breathe. It's just like music: Have clean lines.
How much is too much to spend on a haircut?
You cannot put a price tag on looking good. But after C-Town, my next job was cutting hair in a barbershop in the South Bronx. I had to be about 10 or 11, the youngest barber, without even having a barber's license. I was cutting my friend's hair at the house and I was good at doing designs and characters in the back of the head and the sides. Word got around and so when I went to go get my hair cut at the barbershop they were like, "Man, you're taking our clients!" They offered a part-time situation at the shop and I said, "Only if I could sell my mixtapes." And they agreed. And I was making more money than all of them because I would do a haircut with a mixtape. If you got a design, that was like a $30 haircut.
When's bedtime?
Never.
Which do you prefer, the old Times Square or the new Times Square?
New. I think it's being utilized better because of technology. The seating outside is thoughtful and the cars aren't taking over the whole place like it used to be. You know what? Times Square is for the people, not for the taxi cabs.
What do you think of Donald Trump?
Real estate. I know him; he's never done anything wrong to me.
What do you hate most about living in New York?
Rush hour traffic.
Who is your mortal enemy?
Perfectionism.
When's the last time you drove a car?
Yesterday. I'm into cars. I have about seven (my favorite is the McLaren MP4). On weekends I drive in, but on weekdays I have a driver, just to make things simple with parking and whatnot. If I drove in, I'd get so many tickets from not being able to park, I'd have no license.
How has the Wall Street crash affected you?
It mentally prepared me to be ready for financial worst case scenarios.
Times, Post, or Daily News?
All for different reasons. When my driver comes, they're all in the car. I really don't have a favorite.
Where do you go to be alone?
My art studio.
What makes someone a New Yorker?
Their spirit.