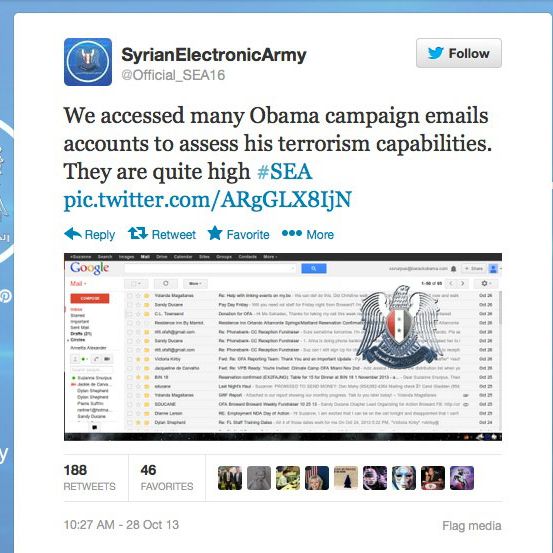 The pro-Assad online posse known for hacking the New York Times, Twitter, the Washington Post, and many more targeted the Obama group Organizing For America today, and at the very least annoyed the hell out of them. The Syrian Electronic Army gained access to the president's customized Twitter link shortener (OFA.BO), used on affiliated Twitter and Facebook accounts, causing clicks to be redirected to the SEA website and videos. "All the links that Barack Obama account tweeted it and post it on Facebook was redirected to a video showing the truth about Syria," a spokesperson for the hackers wrote.
The group claimed to have accessed OFA e-mail accounts as well, using its not-so-high-tech methods, although the damage has proved to be limited and short-lived so far. (The links are now back to normal.) OFA has remained vague, and may be embarrassed:
An OFA official declined to comment on whether the hackers breached OFA email accounts or how they gained access to the link-shortener.  In the past, the Syrian Electronic Army has broken into systems by sending fraudulent emails to target company employees. ("You must watch this video!") If the employee clicks on the link, they can inadvertently allow hackers into the system.
Healthcare.gov, which we've heard may be vulnerable, should probably watch its back.