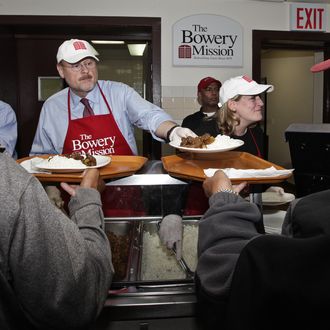 The Lhotas serve food at The Bowery Mission.
Photo: Byron Smith
By all accounts, Tamra Roberts Lhota is a lovely lady and a skilled fund-raiser, but if she backed some radical cause or faced fascinating challenges in her youth, she isn't telling the New York Times. Joe Lhota's wife was due for a profile since the paper has already delved into the Republican candidate's unusually passionate hatred of communism, Bill de Blasio's support for the Sandinistas, and his wife Chirlane McCray's battles with various forms of discrimination. Apparently there are few colorful tales in Ms. Lhota's back story, unless you count the weird and unexplained revelation that she met her future husband on a Paine Webber conference call in 1986. 
Like McCray, Lhota is present at every one of her husband's strategy meetings, and she's described by aides and friends as "the campaign's all-purpose glue, and a sort of velvet-gloved arm twister with a knack for getting people to do what she needs them to do." However, her specialty is fund-raising. Lhota got her start in gathering donations while volunteering on Rudy Giuliani's first mayoral campaign, and she mapped out a very successful fund-raising plan for his second run. When he won, she was appointed to the Mayor's Fund to Advance New York City, which promotes public-private partnerships. She was in City Hall on 9/11, and days later she was asked to lead the Twin Towers Fund.
The piece presents plenty of evidence that Ms. Lhota is a good person, too. In the past decade, she earned a degree at the divinity school of the General Theological Seminary in Chelsea and considered becoming an Episcopal priest. For her 25th wedding anniversary, she announced she wanted to work the soup line at the Bowery Mission, telling a friend "I don't want diamonds; I want to help somebody." If you invite her to dinner, she'll help wash the dishes, and the file folders in her campaign office are "neatly marked."
Those qualities aren't exciting enough to make Lhota more attractive to voters, but it seems his wife might have been more concerned about turning off the supporters they do have. "Perhaps mindful of the excruciating tabloid glare that has bathed other candidates' spouses, she measured her words and paused before every answer," the Times reports. That explains why the article wasn't accompanied by a goofy yearbook photo or amusing excerpts from the Lhotas' wedding video.