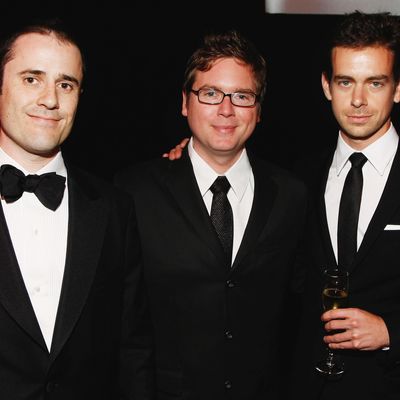 $$$$$$$$$$$$$$$$$
Photo: Jemal Countess/WireImage
Twitter dropped its long-awaited S-1 filing on the world today, a step toward becoming a public company. The filing, which gives statistics on Twitter's finances and users, is the first real look under the company's hood. It's a signal to investors about how the company makes money, how it stacks up to Facebook and other social networks when it comes to user engagement, and what it's worried about as it approaches the public markets.
We learned that Twitter will list under the handle TWTR and has more than 200 million monthly active users, 75 percent of whom access the site through a mobile device. We also learned who's getting megarich off the IPO.
Co-founder Evan Williams is the biggest single stockholder, with 12 percent of the company. Co-founder Jack Dorsey has 4.9 percent, and CEO Dick Costolo has 1.6 percent. Twitter's other shareholders include early investor Peter Fenton, Union Square Ventures, Spark Capital, and Rizvi Traverse. Twitter's initial valuation is expected to exceed $10 billion, making Williams a billionaire and other shareholders multi-multimillionaires.
The filing does contain some bad news. While Twitter's popularity and revenue are growing, its profits aren't — the company has lost money every year since 2011, with a loss of $69 million in the last six months alone. Ad rates are down 46 percent in the last quarter, and the company says it expects that "our user growth rate will slow over time as the size of our user base increases."
Filings like these contain a section called "risk factors," in which companies lay out all the bad things that could cause harm to their business. Twitter warns that "spam could diminish the user experience on our platform," and that it might fail to grow internationally as quickly as it hopes. It also name-checks its rivals:
For example, Facebook operates a social networking site with significantly more users than Twitter and has been introducing features similar to those of Twitter. In addition, Google may use its strong position in one or more markets to gain a competitive advantage over us in areas in which we operate, including by integrating competing features into products or services they control.
Twitter did not list journalists' annoying tweet habits as a risk factor.