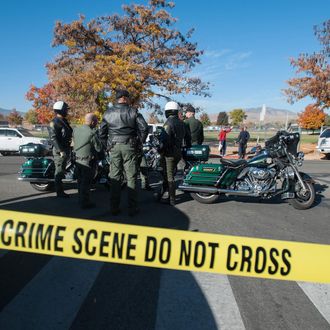 Photo: Kevin Clifford/AP/Corbis
Sparks Middle School in Nevada was the site of the nation's latest school shooting today, where a gunman left one person dead and two kids critically injured. The shooter, thought to be a student in the school's uniform, died from a self-inflicted gunshot wound, the Reno Gazette-Journal reports, after firing at a teacher.
"We were at the basketball court and we heard a pop, like a loud pop, and everybody was screaming and the teacher came to investigate," said a 13-year-old witness. "I thought it was a firecracker at first, but the student was pointing a gun at the teacher after the teacher told him to put it down and the student fired a shot at the teacher and the teacher fell and everybody ran away."
The "code red" at the school has since been lifted, the district tweeted, after students were evacuated. "We believe the suspect has been neutralized," said the Sparks Police Department in a statement.
"I was deeply saddened to learn of the horrific shooting at Sparks Middle School this morning," said Governor Brian Sandoval as authorities sought to sort out the violent scene. "Kathleen and I extend our thoughts and prayers to the victims and those affected by these tragic events."