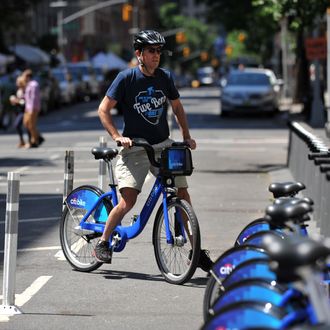 Photo: STAN HONDA/AFP/Getty Images
Two separate people are in the process of suing NYC over Citi Bike, and neither because of a bad ride. Both claim they tripped over the rental docks, DNAinfo reports, and are after damages.
Your sympathy may vary: One very polite man, who is 52 years old and legally blind, says the racks are the same gray color as the sidewalk ("May I suggest you paint the bike-rack base a different color, like black?") and wants $500 to cover his medical bills. A 50-year-old woman who is also suing has no such excuse, and is seeking $1 million, because nothing is fair.