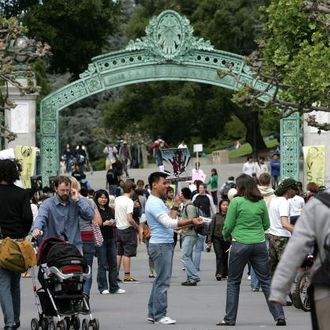 UC Berkeley students walk through Sproul Plaza on the UC Berkeley campus April 17, 2007 in Berkeley, California. Robert Dynes, President of the University of California, said the University of California campuses across the state will reevaluate security and safety policies in the wake of the shooting massacre at Virginia Tech that left 33 people dead, including the gunman, 23 year-old student Cho Seung-Hui.
Photo: Justin Sullivan Images/Getty
A blackout and explosion on the U.C. Berkeley campus that injured several people and caused a campus-wide evacuation on Monday was apparently caused by the theft or attempted theft of some copper grounding wire, a campus spokesman told The Daily Californian. At least one person had to be taken to the hospital, and a few others were treated at the scene, the campus newspaper reports. Copper wire theft: Not just an LIRR problem.