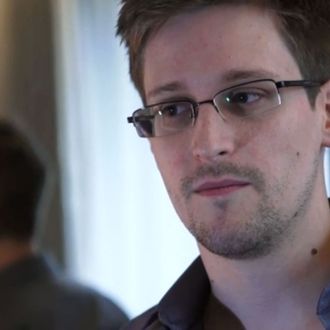 Despite President Obama's assurances that we're not listening to German Chancellor Angela Merkel's phone calls right this second, the revelation this week that the NSA is eavesdropping on a few dozen world leaders is straining our relationship with Europe. But our friends potentially seeing us as a "cyberbully," as the New York Times puts it, might be the least of the government's leak-related worries. The Washington Post reports that U.S. officials have been calling foreign intelligence services to let them know Edward Snowden might have documents that expose their secret cooperation with the U.S.– which would especially awkward for countries that aren't publicly allied with the U.S.
In some cases, not all branches of the foreign government know about the collaboration. The materials in question include descriptions of efforts to spy on adversaries like Iran, Russia, and China. Per the Post:
In one case, for instance, the files contain information about a program run from a NATO country against Russia that provides valuable intelligence for the U.S. Air Force and Navy, said one U.S. official, who requested anonymity to discuss an ongoing criminal investigation. Snowden faces theft and espionage charges.

"If the Russians knew about it, it wouldn't be hard for them to take appropriate measures to put a stop to it," the official said.
Snowden claims he didn't bring any documents with him into Russia, and said he directed the journalists he's working with not to release any information that could, in their judgement, pointlessly harm the U.S."There are all sorts of documents that would have made a big impact that I didn't turn over, because harming people isn't my goal," he told The Guardian. "Transparency is."
Unlike Snowden's other leaks, these particular materials don't involve NSA surveillance. Sources say 30,000 documents describing the intelligence work of one branch of the military were taken from a network run by the Defense Intelligence Agency.
Still, Gen. Keith Alexander, head of the NSA, has plenty of reasons to be annoyed with Snowden, and made it clear on Thursday that he also has little tolerance for journalists doing their job. "I think it's wrong that that newspaper reporters have all these documents, the 50,000 — whatever they have and are selling them and giving them out as if these — you know it just doesn't make sense," Alexander said in what we're assuming is an unusually testy interview with the Defense Department's "Armed With Science" blog. "We ought to come up with a way of stopping it. I don't know how to do that. That's more of the courts and the policymakers but, from my perspective, it's wrong to allow this to go on." They're working on it, but that pesky First Amendment keeps getting in the way.