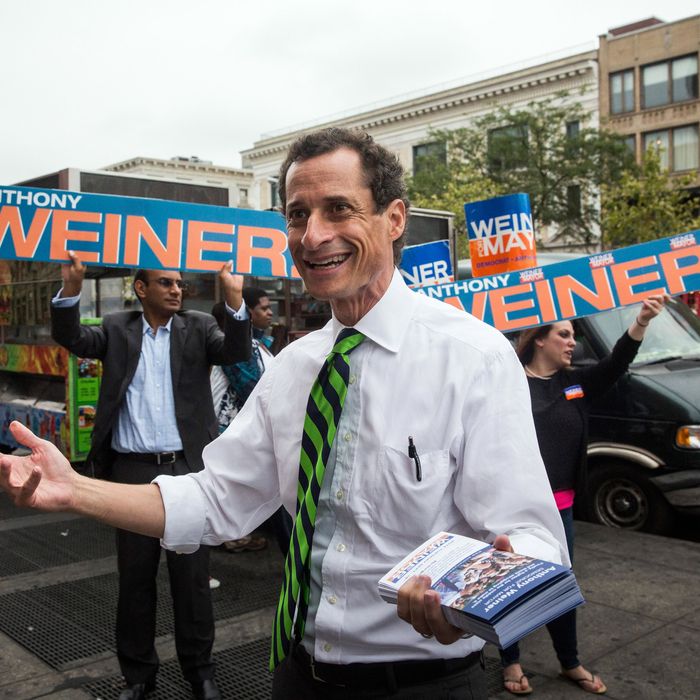 The face of a man with many regrets.
Photo: Andrew Burton/2013 Getty Images
The first step in Anthony Weiner's political comeback was an April 2013 New York Times Magazine profile in which Weiner finally came clean on the Unpleasantness, and cast himself as a rehabilitated man who had been forgiven by his wife. Of course, Weiner didn't actually come clean: Nowhere in the profile did it mention that Weiner continued sending photos of his penis to random women even after he resigned from Congress. Consequently, when Sydney Leathers showed up, it took everyone by surprise and Weiner's campaign was ruined. So obviously Weiner blames … the profile's author, Jonathan Van Meter:
"I thought there'd be thousands of questions about the sexting. But there wasn't a lot of conversation about that. We had a guy [Van Meter] who wasn't tough enough. We needed someone to just tear away at me. And not someone who would do something sympathetic…. He wrote an aftermath story, about two interesting people. Later, I thought, 'We didn't get this done. Of the hundred things we wanted to do, the one thing we wanted to accomplish was to get that out there!'"
The obvious question: If getting this information out of the way was his primary motivation, why didn't Weiner just, you know, say something? Weiner has no explanation. 
"I should have!" Weiner said. "That's on the list of the hundred mistakes you make in a campaign. I should've said, 'Other things happened in the interim,' to get that out there. That's what I should have done!"
"That's what I should have done" is kind of a personal motto for Weiner at this point.