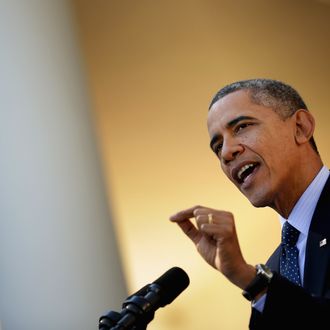 Photo: Chip Somodevilla/2013 Getty Images
NBC News tweeted on Wednesday evening that the White House would "postpone deadline for individuals to be required to buy health insurance," by up to six weeks, which would be huge since the Republicans' effort to delay the individual mandate was ostensibly what sparked a sixteen-day government shutdown. Deputy Press Secretary Josh Earnest quickly shot down the rumor, tweeting that "NBC is wrong again" and "Deadline for having insurance is March 31. Was true this am. Is true tonight." Later White House officials told the Washington Post that they are tweaking the rules to ensure that people who buy health insurance through the marketplace toward the end of the open enrollment period won't be penalized. That doesn't make for a snappy headline, but the change doesn't really amount to a delay of the individual mandate.
As the Post's Sarah Kliff explains, the move is a response to an issue spotted by tax firm Jackson Hewitt earlier this month. Federal regulations state that people will have to pay a tax penalty if they're uninsured for three months or more. While open enrollment ends on March 31, it takes a few weeks for health plans to kick in. So if someone buys a plan in late March but their coverage doesn't start until April 1, it looked like they would be penalized. Hewitt said taxpayers should buy insurance by mid-February to be on the safe side, but the administration said Wednesday that there will be no penalty for anyone who buys insurance during open enrollment. It's unclear exactly how the administration will make the exemption for those who join the ranks of the insured at the last minute.
The change, which White House press secretary Jay Carney referred to as "aligning" the two deadlines for enrollment and avoiding a penalty, probably would have happened even if HealthCare.gov wasn't a glitchy mess. While it's intended to simplify the process, it adds to the impression that this isn't just one poorly designed website, but a sign that all of the Republicans' dire warnings about the Obamacare "trainwreck" are coming to fruition.
The New York Times reports that investigating flaws in Obamacare is the Republicans new angle, since their effort to stop the law failed spectacularly. On Thursday the "search for the guilty" phase will commence when the House Energy and Commerce Committee holds the first of many hearings expected from multiple committees on the law's various shortcomings. "I think the biggest part of Congress's job is to provide proper oversight of the executive branch of government," John Boehner said Wednesday. "And when it comes to Obamacare, clearly there is an awful lot that needs to be held accountable."