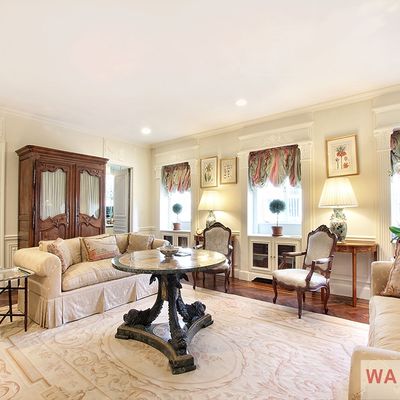 Nice place.
Photo: Warburg Realty
Let the West Coast have his castle in San Simeon. On this side of the country, William Randolph Hearst — along with his infamous mistress, Marion Davies — lived in a comparatively modest, though still stately, apartment at 465 Park Avenue, a.k.a. the Ritz Tower. It's now on the market for $5.75 million through Warburg Realty's Frederick Warburg Peters and Sheila Trichter.
With plenty of period details intact, it's easy to imagine the pair here. Arthur Brisbane, who hired architect Emory Roth to design the co-op, built it in 1925. Hearst was said to be a "co-developer" of the project, and he moved into Brisbane's duplex — this unit is part of that original apartment — in 1935 and stayed there for three years with Davies. Though gossips and historians have painted Davies as the girlfriend whom Hearst coddled, she is said to have been a financial lifeline for him too. According to the book New York: The Movie Lover's Guide, Davies and Hearst were living here when Hearst nearly went bankrupt; Davies sold off some of her investments and gave Hearst a million dollars to help out.
A 1961 obituary published in the New York Times when Davies died says the publishing magnate fell in love with her when she was only 17, having spotted her at the Ziegfield Follies. He was twice her age, and married, but he and Davies stayed together for 34 years until he died in 1951.