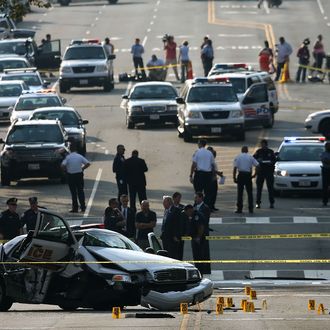 A police vehicle damaged in the chase blocks Constitution Avenue.
Photo: Mark Wilson/2013 Getty Images
After incidents like the car chase on Thursday that put D.C. on lockdown and left two officers injured, people usually say they're shocked that their loved one was involved. In this case, family and friends seemed particularly dismayed to learn that 34-year-old Miriam Carey was the woman who rammed her car into a barricade with a 1-year-old believed to be her daughter in the vehicle, then fled toward the U.S. Capitol, where she was fatally shot by police. The dental hygienist from Stamford, Conn. had no history of violence, wasn't interested in politics, and had no known reason to be in D.C."I would never in a million years believe that she would do something like this," said Dr. Steven Oken, her boss of eight years. "It's the furthest thing from anything I would think she would do, especially with her child in the car. I am floored that it would be her."
Unlike in the Navy Yard shooting that terrorized D.C. less than three weeks ago, there are no reports of missed warning signs, but Carey did suffer from mental health issues. "She had post-partum depression after having the baby," her mother, Idella Carey, told ABC News. "A few months later, she got sick. She was depressed. … She was hospitalized."
Miriam Carey grew up in Brooklyn, where her mother and sister still live, in a family of five daughters. Angela Windley, who befriended Carey while they attended college together in the Bronx, described her as "always very professional" and "very focused." She said Carey moved to Stamford several years ago because the rent was too high in Brooklyn. "The neighborhood we both grew up in wasn't the greatest, and she always talked about getting out," Windley added. A neighbor from Carey's apartment complex, which was evacuated and searched by bomb disposal units on Thursday evening, said she lived with her daughter's father.
Her sister, Amy Carter, seemed stunned when contacted by a Washington Post reporter. "That's impossible. She works, she holds a job," said the Brooklyn nurse. "She wouldn't be in D.C. She was just in Connecticut two days ago, I spoke to her."
While Dr. Oken said Carey was a "non-political person" who was "always happy," another former employer said he fired her in August 2012 (the same month she had her baby) because she had problems getting along with some co-workers. "When we confronted her about certain situations within the office, she had a temper," Dr. Barry J. Weiss told the New York Times.
Weiss wouldn't elaborate, but so far nothing in Carey's past sounds extreme enough to begin to explain what led to the tragic scene in D.C. Windley said some people found her friend arrogant, "But that was the most negative thing you could say about her."