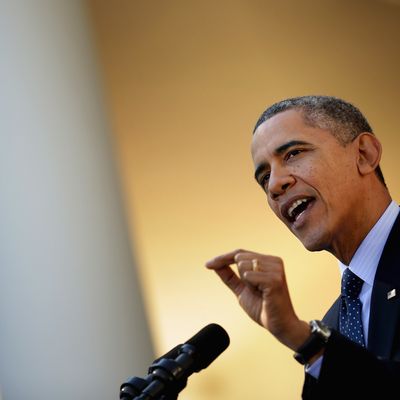 Photo: Chip Somodevilla/2013 Getty Images
The attention of the peripatetic political world has lurched suddenly from the dysfunctional rollout of the Obamacare website to the discovery — or, more accurately, rediscovery — that its functioning will roil the individual-health-care market. President Obama repeatedly promised that people would not lose their existing coverage as a result of his health-care plan. This lay somewhere between an oversimplification and a falsehood, as millions of Americans are facing exactly that prospect right now as the individual-insurance market complies with the law's new regulations. Reports in Politico, the Los Angeles Times, and NBC News have added a tinge of revelatory shock to a development that experts on both sides long expected to happen.
The coverage architecture of the Affordable Care Act was designed to redress the plight of Americans lacking health security — either because they lacked any health insurance, or because the only insurance they could obtain was so skimpy it failed to make access to necessary medical care remotely affordable. Three quarters of medical bankruptcies, one of the main social disasters Obamacare was designed to prevent, happen to people who have insurance. But the insurance plans they have can not only exclude people with preexisting conditions, they can also impose caps on coverage — so people who incur a costly injury or disease can face sudden ruin — or block or delay promised benefits.
It's significant that left-of-center-health care reformers lump together people who lack any health insurance with those who have the sorts of minimal plans that leave them exposed to enormous financial and medical risk. The pre-Obamacare individual insurance market does not function as an "insurance" market the way Medicare or employer-based insurance does. There's little spreading of risk. Insurers pluck out people who are (and expect to remain) healthy, and avoid having to pay the freight for people with a higher chance of needing medical care.
Obamacare left the relatively well-functioning employer health-insurance market in place while turning the individual market into something more like employer-based insurance, where risk is spread. Obama's promise that people could keep their insurance was intended to convey that those who already had insurance through their job or through Medicare would not be forced into the new health-care exchanges.
On the one hand, this failed to convey the blunt reality that people in the individual insurance market who had skimpy coverage and wanted to keep it could not. On the other hand, the administration never denied this fact. The designers of Obamacare straightforwardly believed that the regulation of the individual-health-insurance market was fully consistent with its promise, even though people already in that market were bound to face changes. Here, for instance, is a passage from a 2010 New York Times story:
In some respects, the rules appear to fall short of the sweeping commitments President Obama made while trying to reassure the public in the fight over health legislation.

In issuing the rules, the administration said this was just one goal of the legislation, allowing people to "keep their current coverage if they like it." It acknowledged that some people, especially those who work at smaller businesses, might face significant changes in the terms of their coverage, and it said they should be able to "reap the benefits of additional consumer protections."
The 14 million people in the individual-insurance market may be a tiny percentage of the population, but it's still a lot of people. As the start date for the new regulations looms at January 1, most of them are receiving cancellation notices. That is a terrifying experience in a country where the cancellation of health insurance has been a disastrous life event roughly on par with losing a job. They are receiving those notices because the regulations Obama promised, and which were the most popular parts of his plan — ending the lifetime caps, the preexisting condition discriminations, and other risk winnowing — ended the individual-insurance market as we know it.
Now, everybody in that market can obtain insurance that does protect them against catastrophe. But the promise of availability of more secure insurance — which remains logistically difficult or impossible to shop for in many places, and which does not begin for two more months anywhere — is hardly a consolation.
Obama adviser Valerie Jarrett last night offered up a spin on the wave of policy-cancellation stories that goes well beyond the original, ambiguous promise into sheer absurdity:
Of course Obamacare is the reason so many insurance companies are changing existing plans.
When it was originally contemplated, several years away from implementation, the process of imposing regulations on the individual-health-insurance market did not feel like taking people's health insurance away from them. In the current moment, with cancellation notices going out and alternatives not yet available, it feels exactly like that. Which is to say, a promise that felt like a mere oversimplification at the time, and may eventually feel like one in retrospect, currently feels like a lie.