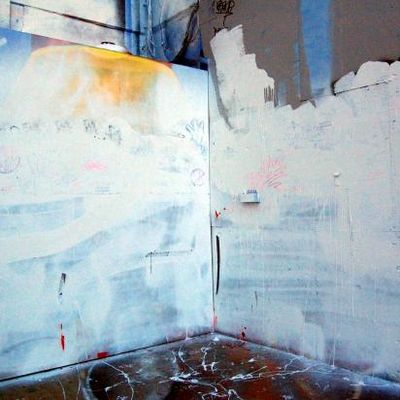 The new 5Pointz.
Photo: DNAinfo/Katie Honan
Six people were arrested for vandalism at the newly white Long Island City warehouse last night, DNA Info reports. 5Pointz, once the city's premiere destination for graffiti artists and admirers, began its transformation into high-rise apartment buildings early Monday morning when owner Jerry Wolkoff had all of the aerosol work suddenly painted over, basically daring taggers to abuse the fresh canvas. 
"I had them go along with the roller and take off all the scribbling — the graffiti they put on overnight," said Wolkoff. "They put F-you on there, things like that."
The owner also snuck in a shot at the protest painters. "I don't believe — I could be wrong — that these were the people that were doing the graffiti on my building prior," he said. "The talent that was on there now is not that talent that was put on the building."
The temporary messages included "RIP 5Pointz," "Jerry I will never forgive you," and "You destroyed our home," according to DNA Info.
Wolkoff previously told Daily Intelligencer that his new buildings will include 60-foot walls that encourage graffiti. "They're misguided," he said. He plans to tear the building down at the start of 2014.
Until then, he's going to need a lot of white paint.