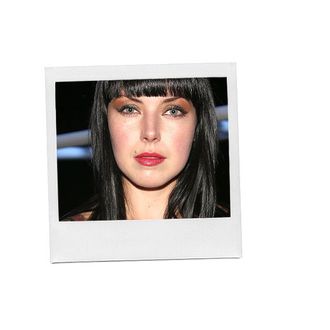 Photo: Paul Zimmerman/WireImage
Name: Alexis Krauss
Age: 28
Neighborhood: Greenpoint
Occupation: Singer, songwriter for the band Sleigh Bells. You can catch them at Terminal 5 next Friday and Saturday, November 22 and November 23, in support of their latest, Bitter Rivals.

Who's your favorite New Yorker, living or dead, real or fictional?
Starr Saphir. She guided bird-watching tours in Central Park for decades and just passed this year.
What's the best meal you've eaten in New York?
Not sure if it was the best meal I've ever eaten in my history of dining in NYC, but I just had a very delicious dinner at Locanda: Vini & Olii in Clinton Hill. The place is charming, the wine list is great, and the pasta was incredibly fresh. Also the charcuterie de la terra and the crostini misti were exceptional.
In one sentence, what do you actually do all day in your job?
I'm currently on tour, so my days mostly consist of morning espresso explorations, playing fetch with my tour pup Rizla, fulfilling press requests, venue-parking-lot workouts, sound-checking, makeup application, losing my mind for 60 minutes onstage, chatting with fans, eating instant oatmeal, dog walking, and sleeping while driving.
What was your first job in New York?
Technically my first job in NYC was acting in the Sheryl Crow video for "Everyday Is a Winding Road," which was filmed in Carroll Gardens. I was 10, and in the final cut you could only see my feet. Bummer.
What's the last thing you saw on Broadway?
Stephen Sondheim's Follies starring Bernadette Peters.
Do you give money to panhandlers?
The majority of the time. When I don't I always regret it.
What's your drink?
Old-fashioned with Bulleit bourbon.
How often do you prepare your own meals?
Hardly ever when I'm on tour but frequently when I'm home. I grew up in a household that really appreciates food, and both of my parents are excellent cooks. My mom and I are currently planning our Thanksgiving feast (I make a mean sweet-potato-and-marshmallow casserole).
What's your favorite medication?
The Dinahmite shot at 3 Roots Juice Bar in Greenpoint.
What's hanging above your sofa?
A framed print by the legendary tattoo artist Thom DeVita. The man is in his eighties and is still creating incredible art.
How much is too much to spend on a haircut?
Anything over $120 seems excessive and unnecessary.
When's bedtime?
There is tour bedtime and real-life bedtime. Real-life bedtime is usually between 12 and 1 a.m.
Which do you prefer, the old Times Square or the new Times Square?
Neither.
What do you think of Donald Trump?
I used to think he was just a rich idiot with bad hair. Now he disgusts me and not many people disgust me.
What do you hate most about living in New York?
How many dog owners don't pick up their dog's poop.
Who is your mortal enemy?
Anyone who takes up two parking spots in north Greenpoint on days when alternate side is in effect.

When's the last time you drove a car?
Just before I left for tour in October. I'm in charge of taking care of the band's old touring van, hence the anger toward irresponsible parkers.
How has the Wall Street crash affected you?
Fortunately, not directly. Indie rock seems relatively immune. I could commence a diatribe on the ills of capitalism and corporate greed, but I'll spare you.
Times, Post, or Daily News?
Times.
Where do you go to be alone?
My backyard oasis. Specifically my hammock. Yes, you can live in Brooklyn and own a hammock.
What makes someone a New Yorker?
A New Yorker is someone who has lived in the city for at least ten years and refers to it as "the city" even when he or she is traveling in all of the other great cities of the world. Also someone who truly understands the meaning of the words bagel and pizza.