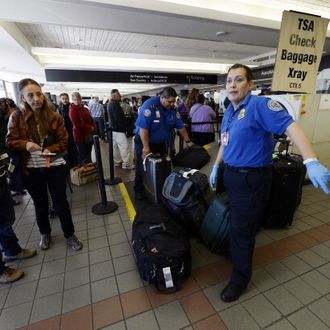 Photo: Kevork Djansezian/Getty Images
The man police arrested for shooting up a terminal at Los Angeles International Airport specifically targeted TSA agents, walking past civilians who identified themselves as such, witnesses said. He reportedly carried a note in which he described himself as a "pissed off patriot" and expressed a desire to kill TSA employees and "pigs." The day New Jersey native Paul Ciancia allegedly killed one TSA officer and injured five other people, the 23-year-old's family told police he sent a text message to a sibling that made them worry he was suicidal. But his acquaintances in California said he didn't seem disturbed before he allegedly went on his deadly shooting spree.
Ciancia apparently did not shoot randomly during his march through LAX. A witness told the Associated Press: "He looked at me and asked, `TSA?' I shook my head no, and he continued on down toward the gate. He had his gun at the ready and but for the grace of God I am here to tell about it." Another told the Los Angeles Times she saw Ciancia carrying a gun and dressed in black, with a bulletproof vest.
Her gaze met the gunman's, she said. She gave him a "quizzical" look.

"He looked back at me, and said 'I don't like this,'" she said. "I took a step toward him" and he shouted an expletive directed at the TSA.
That's when the shooting started. Ciancia, carrying an assault rifle, made his way past a security checkpoint and moved through the terminal, where he got into a shoot-out with Airport police. They shot him in the mouth and leg before arresting him, the AP reports. In his bag, he carried the note, which "referred to how the gunman believed his constitutional rights were being violated by TSA searches and that he was a 'pissed-off patriot' upset at former Homeland Security Secretary Janet Napolitano."
But Ciancia's acquaintances have said he didn't seem angry. "He would always talk about documentaries he would watch about whatever, but there was never any kind of hatred, or any hatred group, or anything like that," one former roommate told KABC in Los Angeles. "He said he was going back to New Jersey, going to work for his dad, making amends with family problems, and spending the holidays with his family. That's all I know."
Around the time Ciancia allegedly went on his shooting spree, Ciancia's father in Pennsville, New Jersey told police there that Ciancia had sent a text to his sibling "in reference to him taking his own life." He asked police in Los Angeles to check in at his son's house, which they did. "There, two roommates said that they had seen him a day earlier and he had appeared to be fine," the AP reported.
Meanwhile, part of LAX is still closed and passengers who abandoned luggage as the terminal was evacuated are still waiting to hear when and how they can retrieve their stuff.