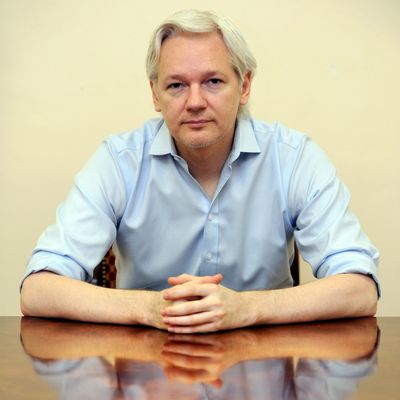 Photo: Anthony Devlin/AFP/Getty Images
WikiLeaks boss Julian Assange has been cooped up in the Ecuadorian embassy in London for a year and a half, avoiding a trip to Sweden to face sexual-assault allegations. To hear him tell it, it's not about the alleged rapes — a trip to Sweden could very quickly turn into extradition to the U.S. to face espionage charges like those leveled against Bradley Manning and Edward Snowden.
But the Justice Department says otherwise, in stronger terms now than ever before: While a grand jury is investigating, the Washington Post reports, "There is little possibility of bringing a case against Assange, unless he is implicated in criminal activity other than releasing online top-secret military and diplomatic documents."
Essentially, the Justice Department knows that Assange has been acting as a publisher, i.e. not doing the actual hacking or leaking himself. Referred to as the "New York Times problem," the government cannot prosecute Assange without going after news outlets like the Times, the Guardian, and the Post, which have published similar sensitive information provided to them by sources. You know: journalism, the First Amendment.
"While we would certainly welcome that development, it should not have taken the Department of Justice several years to come to the conclusion that it should not be investigating journalists for publishing truthful information," said Assange's lawyer.
But WikiLeaks, of course, remains skeptical, so it's unlikely Assange will be leaving the embassy anytime soon, "short of an open, official, formal confirmation that the U.S. government is not going to prosecute WikiLeaks," the group said in a statement.
Still, Assange rationale for avoiding the outside world continues to thin. "He is hiding out in the embassy to avoid a sexual-assault charge in Sweden," said former Justice Department spokesman Matthew Miller. "It has nothing to do with the U.S. government."