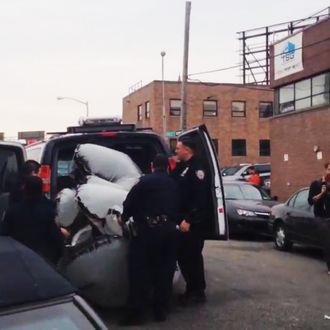 Banksy may be done with New York City, but New York City is not done with Banksy. The ghostly street artist's final piece of the month, a balloon installation in Queens, led to the arrest of three men for trespassing yesterday when they tried to steal the work, which is guaranteed to be very valuable. Instead, the NYPD stuffed it in a van as unruly "evidence," and will keep the giant silver inflatables until "someone can prove they are the owner." It may be a while.
In the meantime, the cops will have to find a place to keep them. "If evidence is ever too big to put in a room, they'll find another place to put it," a source told Gothamist. (Try the auction house?)
But considering that Banksy successfully vandalized spots all around the city for the entirety of October without getting caught, holding onto a little piece of him probably has a certain amount of sentimental value for the police as well.