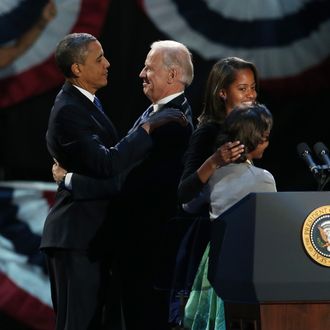 Photo: Win McNamee/2012 Getty Images
At the end of an interview with NBC's Chuck Todd on far more important (but less entertaining) matters, President Obama was asked about the revelation in Double Down: Game Change 2012 that the Obama campaign team considered dropping Joe Biden and making Hillary Clinton his running mate. President Obama was effusive in his praise for Biden. "If they had asked me, I would have said there is no way that I'm not running again with Joe Biden. Because I genuinely believe that he has been one of the best vice presidents in our history," said Obama. "He also happens to be a friend. He also happens to be one of my most important advisers on domestic foreign policy. I like him. When my back's up against the wall, he has my back." And right on cue, we have another report of what, according to Double Down, Biden has dubbed "Uncle Joe Syndrome" – complete with audio recording.

Apparently after congratulating the wrong Marty Walsh for winning the Boston mayoral race, Biden just started calling random numbers in the 617 area code. A woman named Toni told the Huffington Post that on election night she got a call from the vice president commending her on the win and offering, "Anything I can do to help you from the White House in terms of your needs in Boston, holler man." He isn't the first person to make the mistake, but her surname, which she withheld, isn't close to Walsh and she doesn't live in Boston anymore.
You can listen to Biden's congratulatory message here. Or just wait until 2014 and hope you're one of the lucky Americans Biden dials up.