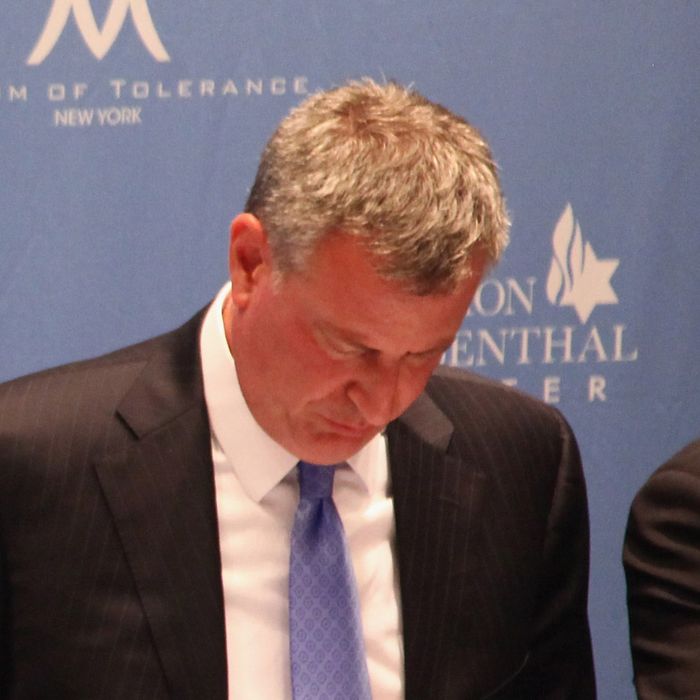 Bill de Blasio either sleeping or just looking down for one second.
Photo: Taylor Hill/Getty Images
Over the weekend, Bill de Blasio was an hour late for an 11:30 a.m. campaign event because, in his telling, he received a 5 a.m. phone call, which threw off his entire sleep cycle. He also acknowledged that he's not a morning person in general. "I think we should re-orient our society to stay up late," he told reporters. "But I don't think that's happening right now."
Perhaps many night-owl New Yorkers agree. But to Joe Lhota, De Blasio's sleep preferences are an ominous sign that he may not be ready to answer that hypothetical 3 a.m. phone call. Like, physically unable to answer it, because he's sleeping:
"I've been saying over and over again that Bill de Blasio's not prepared to be mayor," Lhota said. "You can't get up in the morning? Mayors get phone calls at 5 o'clock in the morning, mayors get phone calls at 3 o'clock," he said.

"God forbid a police officer was hurt or a firefighter was hurt. You've got to go out and you've got to deal with it … Being mayor is a 24-hour-a-day job."
Flash forward to next summer. A hurricane is barreling down on New York. An evacuation order is ready to be issued. All it needs is Mayor De Blasio's signature. But he's sleeping. "He'll wake up when he wakes up," his aides insist. "He needs his rest." De Blasio continues sleeping. The storm hits. Thousands perish. Joe Lhota told you so.