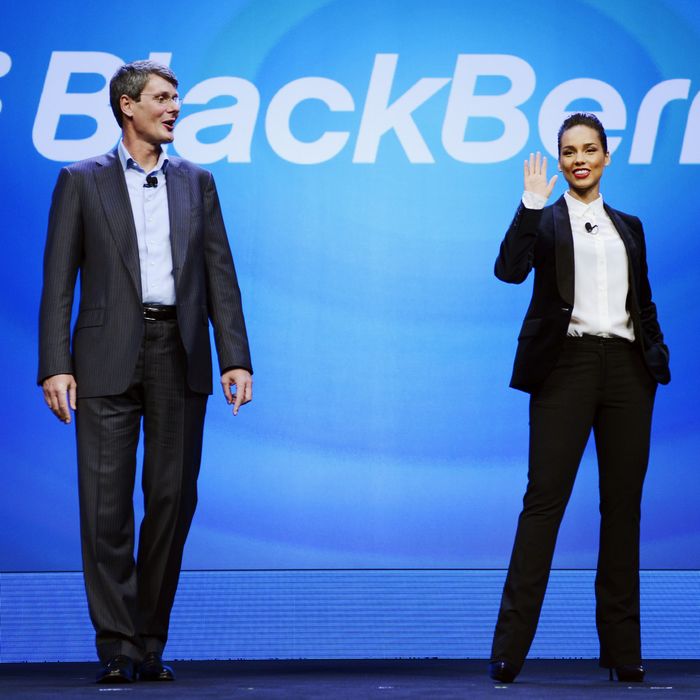 Being ten feet away from Alicia Keys was the only good thing about Thorsten Heins's job.
Photo: TIMOTHY A. CLARY/AFP/Getty Images
BlackBerry has left Struggletown and is on its way to Bankruptville.
The failing Canadian device-maker announced today that it is replacing CEO Thorsten Heins, issuing $1 billion in convertible debt, and abandoning a last-minute sale to Fairfax Financial that might have given the company a quiet, merciful end. Now, with the stock price down 14 percent on the day, and the last real hope for the company's salvation now gone, BlackBerry is on official death watch.
Heins, who was appointed BlackBerry's CEO in January of last year, had an impossible job. Faced with BlackBerry's declining cultural relevance, and the fact that the world had moved on to iPhones and Android devices, he had to rally the troops, roll out a new line of destined-to-fail phones after a series of unexplained delays, devise ham-fisted publicity stunts like hiring Alicia Keys as a creative director, and watch the stock price continue to nosedive. In all, BlackBerry lost more than half of its value under Heins's reign, yet Heins maintained his veil of cheerful optimism the whole way down. As recently as April, he was still saying things like:
In five years, I see BlackBerry to be the absolute leader in mobile computing.
To be fair to Heins, there was probably nothing he could have done much differently. Taking control of BlackBerry in 2012 was like taking control of a horse-drawn carriage conglomerate in 1950. Still, by delaying BlackBerry 10, by refusing to acknowledge the company's decline publicly, and by putting a happy face on one of the swiftest corporate deaths in tech history, Heins didn't exactly help matters.
Now, BlackBerry will have $1 billion in additional capital to spend, and a CEO, John Chen, who has experience in near-death turnarounds. It probably doesn't matter. Even appointing a resurrected Steve Jobs as CEO wouldn't be enough to save the company from any fate other than a low-ball sale to a competitor or a Chapter 11 filing. But at least the company is admitting it has a problem. That's the first step – firing Alicia Keys is probably the next.