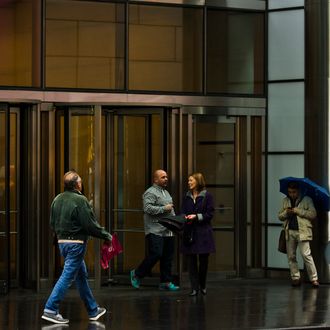 The recent unpleasantness at Bloomberg News, where a story about a Chinese tycoon was held apparently for political reasons and then the reporter who wrote it was suspended and later left the company, speaks to a greater tension between the company's news division and its business operations, the New York Times reported. In a deep-dive exposé with four bylines, the Times teased out the conundrum facing Bloomberg as sales of its lucrative terminals have slowed, especially in China: "It's looking increasingly like as a media company, you have a choice in China: You either do news or you do business, but it's hard to do both," former Dow Jones & Co. China CEO James McGregor told the Times. And as the Times pointed out, Bloomberg's money doesn't come from the kind of news that gets it in trouble there.
Some great quotes from anonymous Bloomberg employees really paint the picture of a large media organization struggling with itself over its direction. "To the bankers that run the place, you have a redheaded stepchild that is a rounding error in the scheme of things that is managing to create a lot of trouble," one news employee told the paper.
Bloomberg is still making money by the bucketful, projecting a rise in revenue to $8.3 billion, from $7.9 billion in 2012, and $3 billion in 2001, the Times reported. But apparently its recent China reporting led a number of customers there to cancel their terminal subscriptions, and it fears losing a huge potential market. Recent layoffs had already led to speculation that Bloomberg was rethinking the value of its news division.
Another unnamed executive scoffed at the notion that the company was facing hard times: "Saying that we are in trouble is a little like saying Saudi Arabia is in trouble because the price of crude went down two bucks a barrel." Still, it sounds like Mayor Bloomberg will have quite the pile of new business to attend to when he goes back to work there.