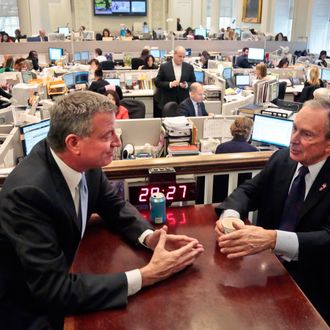 Good luck, buddy
Photo: Bebeto Matthews/Corbis
One of the fun and frustrating things about government budget numbers is that they're endlessly spinnable. Last week, Mayor Bloomberg announced that he was leaving his successor a balanced budget. Critics pounced: It's easy to balance a budget when you let all the union contracts expire! Bloomberg parried: If the next mayor wants to grant retroactive raises, fine, let him knock the budget out of balance. Critics: There's no money set aside for future raises, either! Bloomberg: Sure there is — after three years of zero increase in base pay, they could have a generous 1.25 percent boost.
As wonks digest the details of Bloomberg's final budget revision, the interpretations get even more intriguing. The past few Novembers have seen the mayor propose cuts to social service and cultural programs; then, in the spring, as the fiscal year deadline closed in, the City Council pushed to restore much of the money. But this time, Bloomberg spared senior centers, libraries, and after-school programs the anxiety by not trimming their allotments. Speaker Christine Quinn and other council leaders, surprised and happy, are calling this a $405-million victory for their priorities. At the other end of City Hall, Bloomberg's aides see no big deal: Those are the mayor's priorities too, they say, but some years, he's had less revenue to spread around.
The really interesting part, however, is that the annual dance is about to get a new partner. Bill de Blasio will present his first budget at the end of January. And the outgoing mayor's choices yesterday are in some ways a double-edged parting gift: Inheriting a balanced budget with unexpected revenue is nice, but if cuts turn out to be necessary, it will be the new guy who is taking the money away from old folks and little kids.