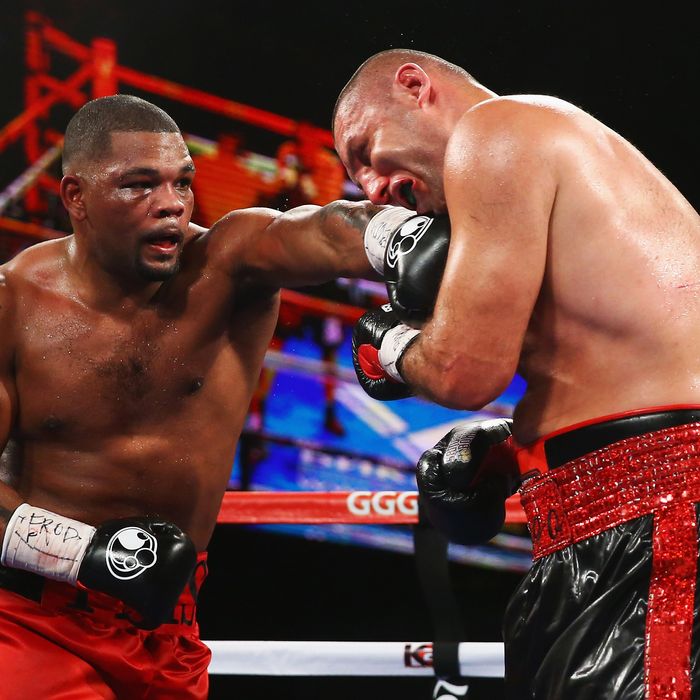 Magomed Abdusalamov absorbs one of many heavy punches from Mike Perez.
Photo: Al Bello/Getty Images
Undercard boxing matches between no-name fighters don't usually get much attention. But a bout on Saturday night at the Theater at Madison Square Garden (broadcast on HBO) pitting a Cuban-born fighter against one from the former Soviet republic of Dagestan has shocked the boxing world. As one of the more brutal and exciting heavyweight fights in recent memory, it blew up on Twitter while it was happening. But in the days since, the bout has taken on the full proportions of a public tragedy, with the Dagestani boxer now in a coma at St. Luke's Hospital and his family wondering why state boxing officials let the severely injured athlete walk out of the arena under his own power.
Magomed Abdusalamov was a bloody mess after ten punishing rounds against the faster, more skillful Cuban fighter. On Twitter, users remarked — even joked — about the grotesque swelling in his face, comparing it, for example, to "a fiery six-car pileup on the highway. Ugly, terrible, tragic yet you can't look away," or suggesting that the Dagestani was "starting to look like dude off Goonies." Despite the stomach-churning damage he endured, Abdusalamov never quit fighting or trying to win. In the end, he finished the bout on his feet, losing by unanimous decision. He arrived at the hospital later that night in a cab and collapsed waiting to see a doctor in the ER. Now he's about to begin the fifth day of a medically induced coma, shifting between "critical" and "stable" conditions. Abdusalamov's wife, three young daughters, other family members, and supporters have been holding a vigil in the ICU, waiting for him to wake from his coma, wondering how the boxing officials and the medical staff at the fight could have failed him so miserably. 
"It is horrible," says Boris Grinberg, Abdusalamov's manager. "I am not afraid to say it. New York State Athletic Commission is horrible. It is dangerous for these people to be so careless and not do anything." Laz Benitez, a spokesman for the commission, which regulates all boxing matches in the state, said officials are in the process of reviewing every aspect of the fight — including the quality of the medical treatment Abdusalamov received.
Abdusalamov, now 32, didn't take up the sport until he was in his early twenties, and he lacked the technical skill of most world-class boxers  — but with devastating power, he had a puncher's chance at becoming a heavyweight champion and earning sizable paydays. Prior to Saturday night, he'd knocked out every one of his eighteen opponents and had never fought past the fifth round. The Russian Tyson, fans called him. 
Mike Perez, his opponent, had the opposite pedigree. A student in the Cuban amateur program, the most intense technical pugilistic factory in the world, he'd boxed over 300 bouts before turning professional. As a heavyweight, he possessed unusual speed, efficiency, and intelligence. After twenty fights and twelve knockouts, he was undefeated, too, a setup that guaranteed a showdown between brains and brawn. Still, the fighters' purses were meager: $30,000 each, perhaps just enough to cover expenses for the months of nonstop training it takes to prepare for a bout.
From the beginning, Abdusalamov struggled. He apparently broke his left hand — his most powerful weapon — in the first round. Perez was relentless, peppering him with jabs, right hooks, and body shots. Soon, Abdusalamov was telling his corner that his nose was broken. In the middle rounds, he began asking how his face looked. As fans on Twitter were noting, he looked disfigured. Either his jaw, cheek, or orbital bone had been broken by Perez's punches. 
After the fight, Abdusalamov waited for medical treatment in the dressing room. According to his manager, Boris Grinberg, two doctors inspected Abdusalamov at different times. One collected urine samples to test for drugs. The other looked the fighter over. "He says, 'Count one, two, three, four, five …,' and then he tells him to make sure he goes to hospital tomorrow because his nose might be broken," Grinberg says. "They give him no attention! No ambulance!"
Abdusalamov walked outside the Garden just like the fans that paid to watch him fight. On the street corner, he started to vomit, Grinberg says. He then walked out to the street and, with the help of Grinberg's son and passersby, managed to hail a taxi. The closest emergency room was St. Luke's, nearly 30 blocks north through slow Saturday-night traffic. 
In the emergency room, Abdusalamov struggled to get attention. Grinberg was there, trying to get the emergency-room nurses to admit him. Abdusalamov started to vomit again. Then he passed out.
"I scream and I say, 'He is fighter from Madison Square Garden.' He is former champion of Russia," Grinberg says. 
Emergency-room doctors soon took over, says Grinberg, prepping Abdusalamov and placing him in a CAT-scan machine. He was taken in for surgery after doctors detected swelling and a blood clot in his brain. They removed part of his skull to relieve pressure from the brain swelling and placed the fighter in an induced coma, in hopes that his condition will improve in coming days.
Meanwhile, the manager has been waiting with Abdusalamov's wife and daughters, praying for his fighter to show signs of life and worrying about the mounting medical bills, which will far exceed the minimum $10,000 insurance policy that the state requires promoters to carry for fighters. Grinberg is also haunted by the fight. He also can't help but wonder what might have happened if Abdusalamov had connected with one of his bombs, and knocked Perez out.
"We were two fights away from title," he says.