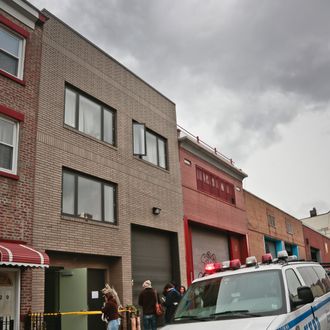 The scene after Monday's shooting.
Photo: Bebeto Matthews
As people try to make sense of the tragic killing of two members of the up-and-coming band the Yellow Dogs, and a fellow musician, friends described shooter Ali Akbar Mohammadi Rafie as a man suffering from severe mental illness whose transition from Iran to the Brooklyn music scene had been a difficult one. Now Pooya Hosseini, one of five people who survived, has shed more light on Rafie's mental state, telling the New York Times that the shooter was ranting about a paranoid conspiracy theory in his final moments. According to Hosseini, as he confronted his former Free Keys bandmate, "He said, 'You had a plan to bring me here and put me in a band, but you did it just to bring me here and fix me with a group of Freemasonry,' " claiming he was being groomed for a secret mission to blow up a government building in New York.
Hosseini said that after hearing several blasts, he realized a gunman was moving through 318 Maujer Street and crouched behind a coat rack in his room. Rafie had already fatally shot Ali Eskandarian, brothers Soroush and Arash Farazmand, and wounded another resident. Hosseini says the gunman burst into the room and spotted him in the corner, saying in Persian, "You think my bullets are not going to go through those coats and your body and the wall?" "I said, 'Definitely, sure, but don't kill me. Just let me talk to you,' " Hosseini recalls.
With a rifle still between them, the two spoke for several minutes about how their friendship had deteriorated since they left Iran, with Rafie spouting strange accusations about plots against him. Finally, he told Hosseini, "I need to kill you and then I need to kill myself. This is what I have to do. This is what I have to do," and had him stand up. Hearing sirens in the distance, Hosseini said he kept talking and grabbed the gun when Rafie turned his head.
They struggled over the rifle, bullets spraying everywhere, until the clip was empty. Both were bloody, and while he hadn't been hit, Hosseini saw an opportunity. Per the Times:
"I just screamed so bad in his face — 'You shot me in my stomach!" — and he got shocked," he said. Mr. Hosseini then tackled Mr. Rafie, knocking him onto a bed, and pressed his knee on his arm, preventing him from reloading. An extra magazine fell to the floor.
Hosseini managed to escape, and Rafie headed up to the roof, where he shot himself.