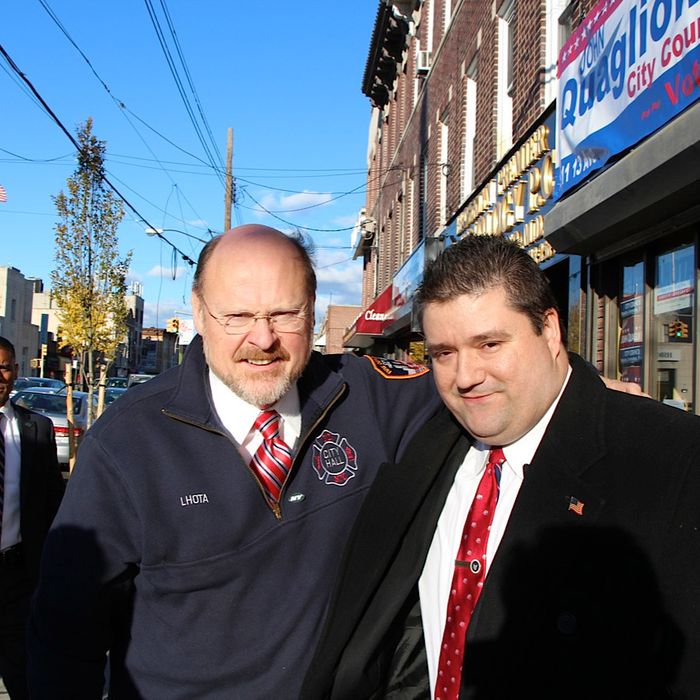 Joe Lhota and BYRC President Glenn Nocera.
Photo: Jonathan Judge
The Brooklyn Young Republican Club skews a bit older. "They're getting ready to put me out to pasture," says the group's president, 38-year-old Glenn Nocera, a Brooklyn native brushing up toward the club's maximum age of 40. He's got about a decade on his loyal lieutenants, three of whom have showed up on a sunny but frigid Sunday afternoon, the last before the election, to campaign for Joe Lhota, despite the cold reality that he's trailing Bill de Blasio by 40 points.
"We just hope the polls are wrong," says club vice-president Moshe Muratov, 27, an Orthodox Jewish father of two who will have to leave the crew early for a family gathering. The executives are joined by Jonathan Judge, the chairman of the board, and Ashoka Jegroo, an occasional club member working on a documentary project for journalism school. "I just like hanging around these guys," Jegroo says. "And I like being a contrarian."
We're in Bensonhurt, far from the Brooklyn of popular imagination where artisanal flea markets, tattoos, and kale reign supreme. It's Lhota territory, or it should be, and the old-school locals are amenable to the four Young Republicans catching them on their way in or out of the supermarket.
"Vote for Lhota on Tuesday," the guys implore passersby, offering fliers. "Absolutely! Absolutely! Can't have that crazy guy in there," says a middle-aged woman in a thick Brooklyn accent, opting not to take the literature.
Nocera spends ten minutes leaning into the passenger-side window of a car, running down Republican bullet points about taxes on the middle-class and law and order to a man pushing 80. "He was voting for De Blasio, but now he's going to reconsider," says Nocera when he stands up straight again, his hulking frame adorned with a red tie spotted with tiny elephants and a tie-clip sporting Ronald Reagan's signature.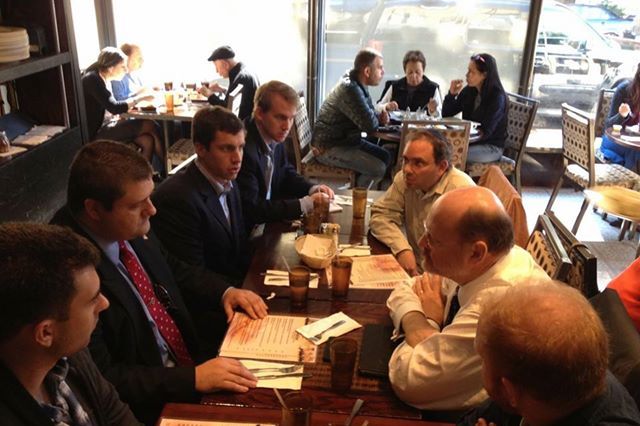 Founded in 1880, the Brooklyn Young Republican Club calls itself "the oldest Young Republican Club in America," and it is not to be confused with the Brooklyn Young Republicans, with an s. "Those are the other guys," says Nocera. His organization donated $1,000 to the Lhota campaign via its PAC and isn't giving up yet, despite the disheartening signs they're going to get crushed. ("Lhota Wins Final Debate, Next Stop Gracie Mansion," reads a recent club dispatch.)
"You always hold out hope," says Nocera. "Polls are not always correct. A lot of people might stay home thinking [De Blasio] is going to win in a landslide. We'll get our people out to vote, hopefully as close to 100 percent of them as possible, and maybe we'll swing the election. Anything is possible."
Lhota himself keeps the same facade of optimism when he swings by the campaign headquarters of Republican city council candidate John Quaglione, where the Young Republican Club is based for the day. Lhota shakes hands, kisses a baby, and notes, "The Jets are whippin' ass," before posing for photos with the faithful and their families. "He's such a gentleman," says Nocera.
And then the candidate is gone, back in his black SUV to hit as many boroughs as possible while the clock winds down on his candidacy, leaving the club's most dedicated members to continue their canvasing of a neighborhood stuck in time. A Park Slope mayor elected on the enthusiasm of New Brooklyn is all but guaranteed, but the volunteers soldier on because they say they know better what's at stake.
"The natives are gone," says an upbeat Judge, gamely acknowledging the inherent superficial contradiction of a Brooklyn Young Republican in 2013. "They've been replaced by people from all over the country who were politicized in college. The uphill battle is that New York is changing. They did not suffer through the trials and errors of the past like I did, and like my parents did. We saw the muggings."
"We were Detroit," Nocera chimes in. "And don't think we can't become Detroit again easily."
And if they wake up Wednesday morning in De Blasio's New York City? "I'll be very depressed," says Nocera. "But I was born in Brooklyn, so I'm used to it."