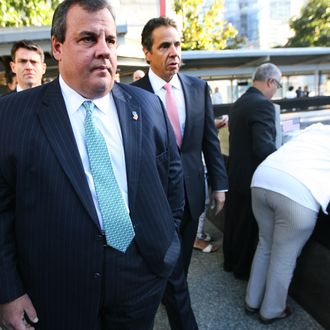 Photo: Chris Pedota/Getty Images
While Chris Christie would lose handily to Hillary Clinton in New York, he would defeat the state's current governor, Andrew Cuomo, 47-42 if the two were to face each other in 2016, according to a new Siena poll. Which is about as demoralizing as your kids saying they'd rather play catch with the next-door neighbor.
 The poll also gives Cuomo his lowest approval rating of his entire term. The good news for Cuomo? He's still on track to glide to reelection in 2014 over a field of mediocre GOP candidates, and Clinton will probably spare him the opportunity to be schooled by a Republican in his home state in 2016.