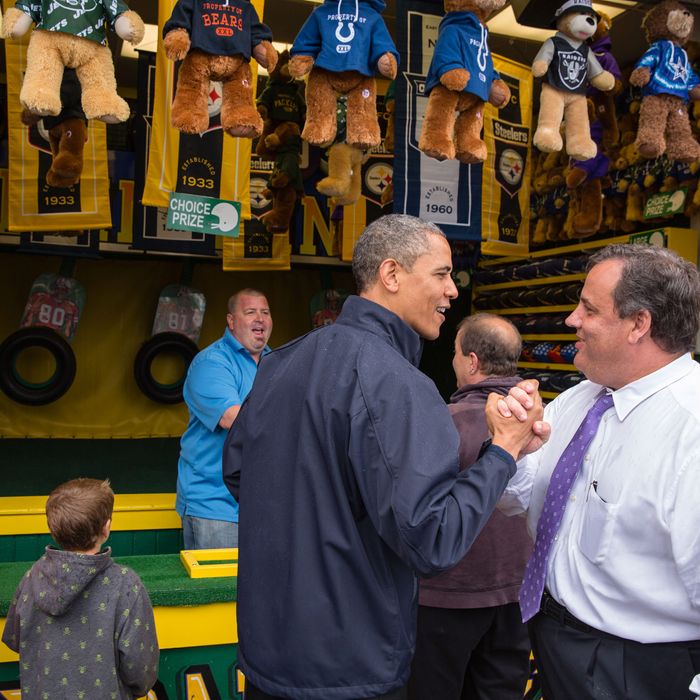 Friends.
Photo: Pete Souza/White House
Chris Christie won reelection in a blue state by a million points last night, another triumph on his road to the 2016 presidential race. And yet, amid the sweet euphoria of victory, something was eating away at Christie. There was an emptiness, a void. 
That's right: President Obama didn't call to congratulate Christie last night — even after Christie called Obama last November to congratulate him on his win over Mitt Romney. It just makes Christie wonder if he's the only one putting any effort into this relationship.
Though hurt and upset, this afternoon Christie was still strongly suggesting that he would very much enjoy a call from Obama:
Asked at a news conference today whether he thought it was an oversight on the president's part, Christie said, "I have no idea, he has not called me … If he has a few minutes to call, I'd be happy to take his call."

"He didn't call other Republicans so maybe he was being the head of his party last night … maybe he will get to the folks on the other side of the aisle today."
And just when it seemed as if this bromance was irreparably broken, it happened:
"Congratulations on your victory, Chris. I really mean that, and I'm not just saying it because you've been sulking all day."