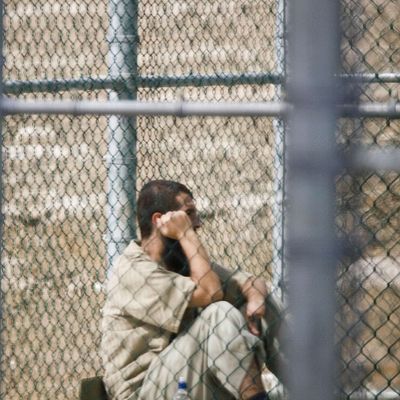 Wishes he had some porn.
Photo: Paul J. Richards/AFP/Getty Images
According to a pretty spectacular AP report, the CIA under President Bush recruited an unknown number of Guantánamo Bay prisoners to return to their home countries, spy on Al Qaeda, and help "find and kill many top al-Qaida operatives." Why would these suspected terrorists, once described by Donald Rumsfeld as "among the most dangerous, best trained, vicious killers on the face of the Earth," turn on Al Qaeda and work as double agents for the enemy? For a number of reasons, some of them horrifying!
Prisoners agreed to cooperate for a variety of reasons, officials said. Some received assurances that the U.S. would resettle their families. Another thought al-Qaida had perverted Islam and believed it was his duty as a Muslim to help the CIA destroy it. One detainee agreed to cooperate after the CIA insinuated it would harm his children, a former official said, similar to the threats interrogators had made to admitted 9/11 mastermind Khalid Sheikh Mohammed.

All were promised money. Exactly how much each was paid remains unclear. But altogether, the government paid millions of dollars for their services, officials said. 
But the incentives to betray their fellow jihadists began long before the prisoners were released from Guantánamo. Those who agreed to participate in the program were transferred out of their drab, Spartan prison cells and relocated to a cluster of hotel-like cottages replete with patios, real beds, "private kitchens, showers and televisions." Also …
Some prisoners asked for and received pornography.
Proving once again that every man — whether he's an American frat bro or an Islamic radical — is really the same, deep down. They are all guys who just want to look at some porn.