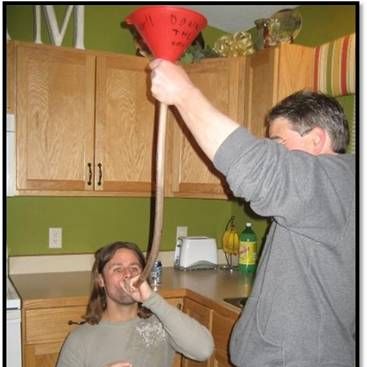 Mills raging on. (Minneapolis City Pages)
According to local observers, 41-year-old Republican Stewart Mills will almost certainly challenge Democratic Congressman Rick Nolan, who currently represents Minnesota's 8th congressional district, when he is up for reelection next year. And he's a serious contender — he brought in twice as many fund-raising dollars as Nolan did during this year's third quarter. Mills — who is anti–gun control, anti-abortion, anti-big government, and currently employed as a vice-president at his family's retail chain — also likes to have a good time, and there are photos to prove it. Minneapolis City Pages has published some choice party pics of Mills happily hitting a beer bong, "playfully licking the lips of a woman" who is not his wife, and posing in what appears to be a Bret Michaels costume. (See the latter two here.) Super chill bro that he is, Mills took the publication of the photos in stride.
"My wife and I have had many lighthearted moments in our lives but right now I am focused on my Congressional campaign and the disastrous effects of our overreaching government and sky high unemployment in the north eastern Minnesota [sic]," he said in a statement. "It's no secret that in the past I've let my hair down to have fun with family and friends." A simple image search indicates that he literally lets his hair down regardless of what he's doing, but you get the point.