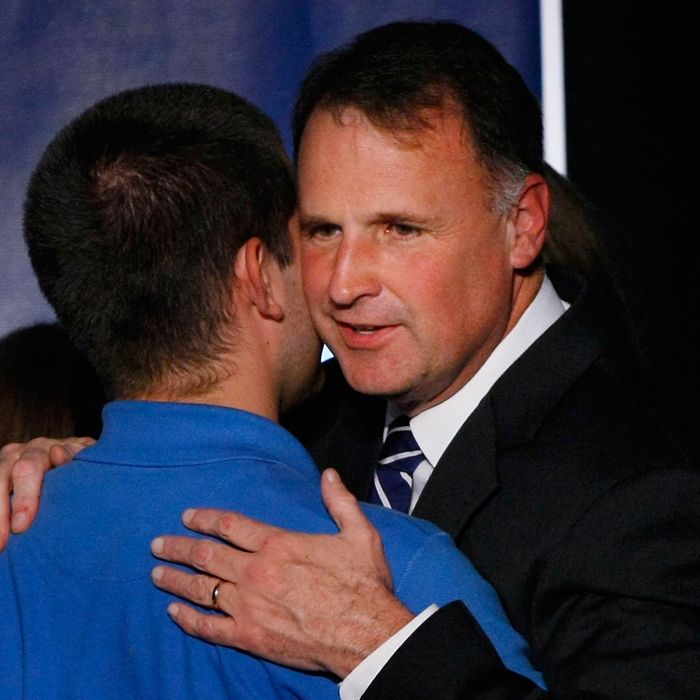 Creigh and Gus Deeds hug after Creigh lost the gubernatorial race in 2009.
Photo: Win McNamee/Getty Images
Virginia state senator Creigh Deeds — also a former Democratic nominee for attorney general in 2005 and for governor in 2009 — is in "critical condition" after being stabbed at home earlier this morning. His son, 24-year-old Gus Deeds, is dead of a gunshot wound. The exact circumstances of the incident are unclear at this time, but a local paper, The Recorder, reports "from observers at the scene" that Gus "stabbed his father, Sen. Creigh Deeds, this morning, and then shot himself."
Gus Deeds, whose birth name is Austin Creigh Deeds, was charged with underage drinking in 2009 while a junior at the College of William and Mary. Other than that completely normal infraction, he does not appear to have any criminal history. He was close with his father, and took a semester off from school to join his dad on the campaign trail during the fall of 2009. Gus served as the vice-chairman of "Sportsmen for Deeds," and a 2005 photo shows Gus and his father holding rifles. Gus was also known to enjoy bluegrass music, and played the banjo. Creigh Deeds divorced Gus's mother in 2010 and remarried last June. 
Update, 12:18 p.m.: The Virginia State Police just held a press conference. They don't have many new details, but say Deeds was stabbed multiple times in the head and torso and "has been able to talk" to investigators.  
Update 4:39 p.m.: According to CNN, "Investigators believe Virginia state Sen. Creigh Deeds was stabbed by his son, who then shot himself in an early morning altercation in their home, state police announced Tuesday."