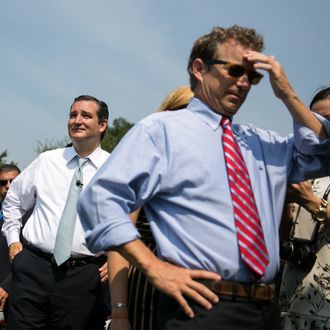 Cruz and Paul.
Photo: Drew Angerer/2013 Getty Images
Tea party superstars Ted Cruz and Rand Paul are supposedly buddies, though it doesn't look like their friendship is going to survive the upcoming battle for the Republican presidential nomination. Both senators are clearly interested in becoming the 2016 nominee, and the New York Times reports that they're more than willing to backstab the other to make it happen. This isn't too surprising, but that doesn't mean it won't be fun to watch these two grandstanders duke it out.
According to the Times, Cruz threw a punch this summer, when he told a room full of Republican donors that Paul "can never be elected president…because he can never fully detach himself from the strident libertarianism of his father, former Representative Ron Paul of Texas." Cruz's comments got back to Paul, "touching off anger and resentment." Paul's team now reportedly refers to Cruz as "the chief of the wacko birds" (credit: John McCain.) And, like many others, Paul — who voted with Cruz during his suicide mission defund Obamacare — has privately complained that the effort was "futile" and "damaging" to the GOP.
Meanwhile, the Times reports that Paul is trying to establish himself as less wacko bird by hanging out with mainstream Republican donors while also attempting to endear himself to Cruz's ultra-conservative base. At a recent meeting of evangelical pastors in Michigan, someone asked Paul, who was raised as an Episcopalian, to confirm that he would "define [himself] as born again." He did, but at least one attendee still seemed to prefer Cruz, who attended the same gathering with his pastor father and "is obviously born again." However, the day before, Paul's wife, Kelley, reportedly impressed the audience by "talking in our kind of language." Don't be surprised to hear that same language coming out of Paul's mouth pretty soon.