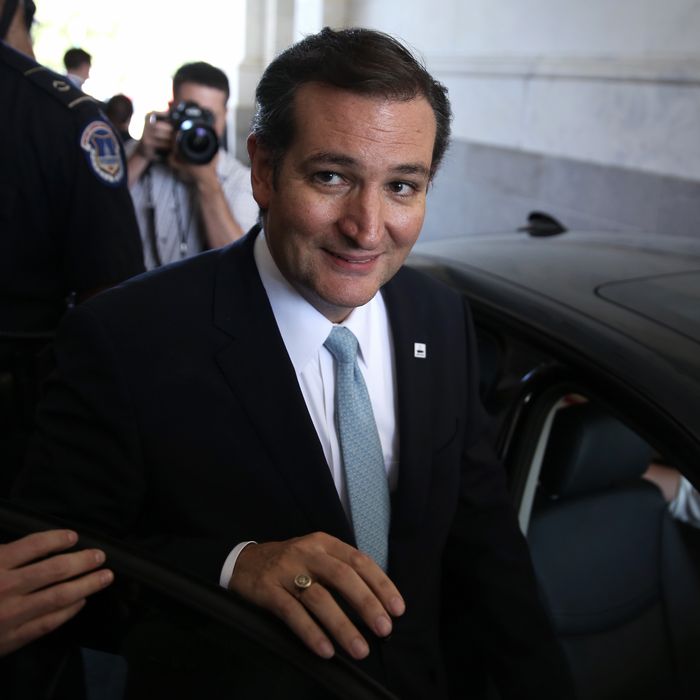 Photo: Alex Wong/2013 Getty Images
We've recently learned quite a bit about what Ted Cruz was like when he was a student. As an undergrad at Princeton, he was smelly, inconsiderate, and mildly creepy, at least according to his freshman-year roommate. At Harvard Law School, he supposedly refused to study with anyone who had attended a "minor Ivy" like Brown or Penn. (Cruz insists that this isn't true and offered up an old study buddy with a degree from Northwestern as proof.) Today's Boston Globe piece on Cruz's time at Harvard mostly contains the sort of information anyone with even a passing familiarity with the difficult right-wing senator has come to expect: He delighted in "antagonizing" liberal classmates; he learned tennis as part of an effort to get a clerkship with conservative Supreme Court Justice William Rehnquist, who liked tennis; he demanded that a girl he barely knew tell him her IQ and SAT score. But the Globe also dug up a "rare display of weakness for someone who otherwise seemed determined to succeed."
Cruz played Rev. Samuel Parris in a Harvard production of Arthur Miller's "The Crucible." Here is what happened:
After the successful first performance, Cruz spent the cast party imbibing so much Everclear — a powerful grain alcohol — that he couldn't make it through the next night's performance. His fellow actors had to coax him into going onstage, but by Act III his condition worsened.

A video of the performance shows him sitting on a bench onstage, his head buried in his hands for nearly five minutes straight. After meekly delivering a line, he walked off stage in the middle of the scene, forcing cast members to improvise around the departure of a lead character. He didn't return for the remainder of the play.
This story would be better if it were about his fake filibuster back in September.