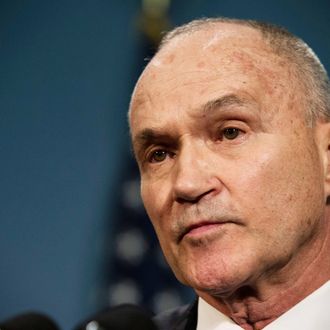 New York Police Department (NYPD) Commissioner Ray Kelly speaks at a press conference about the NYPD's Stop-and-Frisk practice on August 12, 2013 in New York City. A federal court judge ruled that Stop-and-Frisk violates rights guaranteed to people; the Bloomberg administration has vowed to appeal the case.
Photo: Andrew Burton/Getty Images
On Friday, Playboy published an interview with Ray Kelly in which the almost former NYPD commissioner complained that this year's mayoral candidates — the mayor-elect included — "all claimed to be friends of mine up until their [campaigns.]" When asked if De Blasio and his cohort were "just full of shit," Kelly responded, "Absolutely." Apparently, someone let De Blasio know, because today he told reporters, "I had a good conversation with [Kelly yesterday], and I have a clear agenda I want to implement. It was a good conversation. We cleared the air, and we're moving forward." Not together, though.