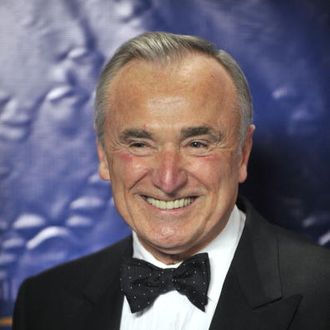 Bill de Blasio has not yet announced who he will hire to replace Ray Kelly as police commissioner, but according to a WPIX report citing "Three sources close to the NYPD," he's planning to do so as early as next Tuesday, and he's going to tap Bill Bratton. Probably. There's a bit of couching going on in the WPIX report, which Marvin Scott opens by saying, "the buzz right now is that Bill Bratton's the guy." That most recent buzz is all coming from the same place on the outside of the De Blasio camp. De Blasio has made no secret of his interest in Bratton, confirming last week he had met with the Giuliani-era commissioner.
But De Blasio has met with a handful of people for the job, including NYPD Chief of Department Philip Banks and Deputy Police Commissioner Rafael Pineiro. He's said he and Bratton have "a great deal of agreement on the core issues," but that as of last week no decision had been made. After the WPIX report Tuesday night, De Blasio spokeswoman Lis Smith tweeted the following non-confirmation-non-denial:
Even though Bratton and De Blasio agree on some things, Bratton appears to take a more positive view of stop-and-frisk, which increased in Los Angeles under his leadership. But then, so did arrests, which hasn't happened in New York.