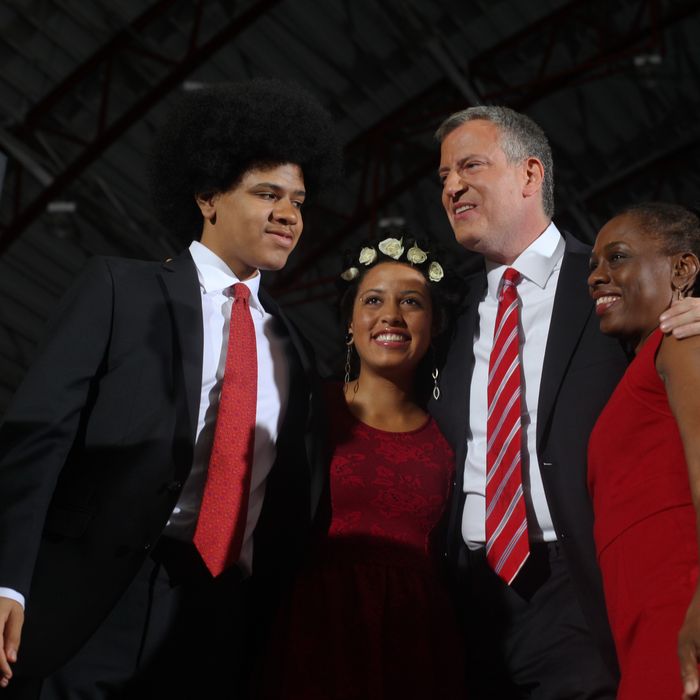 Photo: Nancy Siesel/Demotix/Corbis
While Bill de Blasio's primary victory party in September was overflowing with Brooklyn cool, the celebration of his overwhelming win — at latest count, he had 73 percent of the vote — over Joe Lhota on Tuesday night was a tame, even deflated affair that seemed to anticipate the buzzkill that will come with the messy business of governing.
In fact, when the television networks called the mayoral race in de Blasio's favor just after polls closed at 9 p.m., the Park Slope Armory hosting his soiree was still empty save for a few dozen journalists and cameramen. Eventually, thousands of supporters were allowed to stream in, with his entire rainbow coalition represented. There were groups of Hasidic rabbis from Williamsburg and Borough Park, Muslims and Sikhs, African-Americans and Latinos. They cheered as Democratic candidates for city-wide office gave their own victory speeches (visible on a massive TV projector behind the stage), sipping Brooklyn Brewery beer and white wine from plastic cups.
The progressive horde knew that this was their night, with the outcome nearly certain for weeks. But the audience failed to truly catch fire until a certain pair of teenagers materialized.
It's hard to overstate the importance of de Blasio's children Dante and Chiara to his mayoral campaign, as many of his most fervent backers specifically cite Dante's campaign ad as the turning point in what had seemed a hopeless quest as recently as July. "Bill put a pretty family out there, with an afro from the seventies. It changed everything," SEIU union organizer Henry Singleton said at the party.
Now de Blasio has romped to the biggest mayoral win in recent memory, his lengthy agenda for policing and social reform getting quite the thumbs up from New Yorkers.
"The people of this city have chosen a progressive path," de Blasio said in a rather dry repackaging of his regular stump speech. Perhaps concerned that he has raised expectations impossibly high, the mayor-elect took care to warn that change never comes easy.
"Our work – all of our work – is really just beginning. And we have no illusions about the task that lies ahead," he said. "Tackling inequality isn't easy; it never has been, and never will be. The challenges we face have been decades in the making, and the problems we set out to address will not be solved overnight."